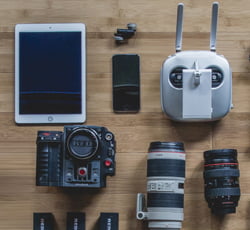 If you're looking to get serious about making photography your career then you'll no doubt feel overwhelmed at the vast array of technical paraphernalia you are faced with in order to 'go pro'.
Your photography kit will eventually become a very personal collection of must-have gadgets and gizmos that you simply cannot work without. But knowing where to get started and refining what's classed as an 'essential' can be a confusing task, especially if you have a limited budget to get yourself started. It certainly all comes with quite a large price tag, but it's best not to have 'all the gear and no idea'. This guide will detail a beginner's guide to help you invest in the necessary pieces you need, allowing you to grow your kit in a more affordable manner.
The Right Lens
It's hard not to act like a kid in a candy shop when you see the lenses that are available. But keep focused on the type of photography that you will be doing, to begin with.  Will it be still life, portrait or landscape?
This will determine your priorities and ensure that you invest your money wisely to a lens that is going to help your style and grow your portfolio in the most effective way possible. Many of the current DSLR cameras and lens options come as a package, so do your research and you'll be able to make your money travel further.
A Carry Case 
When you've made the investment to purchase a professional camera the last thing you want to for is any accidents. The best way to protect your camera, and enable you to carry it around comfortably is with a carry case.
You would think this would be a very simple item to buy, but there are many things that you should consider. Is it made of water repellent materials to avoid any sudden downpours when out and about? Are there pockets and compartments where you can store some of the little extras? And above all is it comfortable to carry around? Don't feel rushed into purchasing this as it will become an item you heavily rely on, during long shoots.
Photography Survival Pack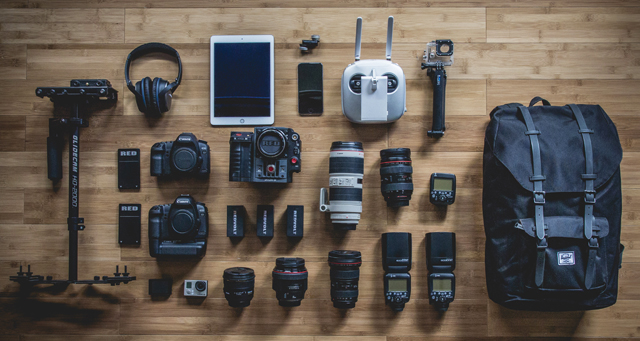 Tripod
A good tripod is an absolute essential, even the amateurs have them for family photos so there really is no excuse not to grab one to add to your kit. They all have pros and cons so do your research and test a few out in the shop to ensure you can assemble it easily and it can carry the weight of your camera. Professional DSLR's can be notoriously heavy, so don't go cheap and end up with a tripod that will break. It needs to be a robust item that can weather all landscapes. A good ball head tripod should last you for a few years to come.
Diffuser & Reflector 
Controlling the direction or the amount of light on a subject is one of the skills that you as the photographer will have to learn to manipulate, and this does not come easily without the use of a diffuser and reflectors.  Purchased from a reputable store these will give you the tools you need to angle the light as and where you need it and soften any harsh light that may occur in outside locations.
Cleaning Supplies 
Your kit is going to get well-used as you attempt to build your portfolio, and with each opportunity will come a new location. As your kit is moved around it will collect dust and dirt easily and this can dramatically affect the quality of your photographs. Purchasing appropriate lens cleaner and small brushes that can remove the dirt from any seams in your camera will ensure that it stays in the best condition possible and doesn't create any undesired photo effects.
Survival Pack 
If you're starting your career freelance around an existing day job you will probably be spending your evenings and weekends traveling to get to clients and to capture specific shots. Always carry around a survival pack should your car ever break down or in case of emergencies. This should include a first aid kit, water, and some snack bars.  It may not be at the top of your list but it's better to be safe than sorry.
Business Cards 
You never know when you're going to bump into potential clients when you're out and about, and it's always the way that you'll need to give over your information when you least expect it. Carry business cards around with you at all times, even when you're out for a drink with friends, as causal meetings can often be the most fruitful to find new business. Why not try going that step further with our branded business card USB sticks so that you can include your portfolio as well? This way, when you pass over your details they can see exactly the style of work you do.
Our checklist may sound like a lot of stuff to carry around, but remember that once you've started your journey you'll soon be able to add to it in time.