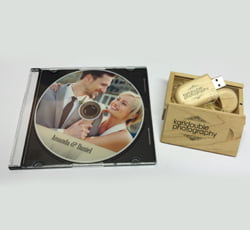 Any change can be daunting but making the leap from DVD storage to a
USB Stick
shouldn't be a scary one. After all, with technology bigwigs Apple removing DVD drives from their products many are now left wondering where to turn for removable storage and where Apple leaves a gap, USBs are there to fill it!
Compact
Those USB sticks are compact little things, gone are the days of carting around a DVD case full of DVDs ready to watch or give away. Small enough to slot into a briefcase either on its own or on a branded keychain (more on designs later), USBs are ready to travel wherever you want to go.
Choose your Storage
Choosing how much storage you need is often a hard thing to get right but USBs will hold just as much, if not more than a standard DVD will. No one wants to fill up one device to then realise the XYZ file is missing. If you're a photographer it's probably best to pick an 8GB device to ensure you can store photos in the highest of qualities and show clients your full range of work. If you simply wish to share a presentation and leave it with a client afterward a 2GB USB will be suitable. Some USBs are even available with up to 128GB of storage which leaves the question: what will you store on yours?!
Travelling Applications
Portable office software, website browsers, games, image editors, and much more, USBs are ready to hold your programs. With fast transfer speeds, portability, and antivirus protection USBs will keep your applications safe and sound.
Customisation
No longer do you need the humble permanent marker to customise your DVD or even a sticky label to keep things organised. Whether you want to promote your brand on a unique USB or give a gift that's stored on a USB, you can now customise your device to suit the recipient or your client. Something thoughtful and unique is far more likely to stand out from the crowd and allow you to shout about your brand in a way that others may not have considered. As part of a business card, on a wristband, in a t-shirt or even as part of a Rubix cube – just don't expect them to be able to complete the puzzle first!

It's all in the Presentation
Following on from customisation it's all about the presentation and whilst it should be what's inside that counts, it helps if the outside looks pretty too. Dress up your
branded USB
and customise your packaging to tie in with your overall design to keep your brand consistent and noticeable to clients.
TVs Love USBs If you're wondering how you'll be able to ditch the DVD and still view your wedding photos on a larger screen it's worth remembering that TVs love USBs too! Many standard TVs or Smart TVs now allow you to plug in a USB stick to view files. Don't forget that the majority of laptops, computers, and even some tablets have USB ports ready for use.
Do your Bit for the Environment
If you're all about looking after the environment then don't worry USBs care about the planet as well. Whereas DVDs rely upon several motors to power the device to read the disk USBs are far less high maintenance. A USB has no moving parts and only requires the use of one port, meaning less power consumption! So, what are you waiting for? Make the switch to a USB today, we guarantee you won't regret it!