USB Memory Stick Artwork Guidelines
In order to produce your USB Project as effectively as possible, we ask that customers please read our Printed USB Memory Stick Guidelines thoroughly.
High-Resolution Logos
Once your order has been placed, please note that in order to reproduce your artwork effectively as possible, and to be of a quality represented in any Visual Mock-Ups, we will require a high-resolution version of your logo, if it has not been provided previously for the purposes of the production of a mock-up, ideally in one of the following formats:

.AI File (Adobe Illustrator)


.PSD File (Adobe Photoshop)
Print Areas
To get a better idea of the size of the print area, please refer to the individual style pages for product-specific Printed USB Memory Stick Guidelines for more information. Please note that print area guidelines are in place to give you a better idea as to the end result size of the logo, as mentioned above, we will still require your logo to be larger than the print area. Specific sizes are also useful for seeing whether your logo is suitable for the print area of the style. For example, wider logos may be suitable for styles with wider print areas, whilst unsuitable for taller logos, in which case the logo may have to be rotated 90° to effectively reproduce your logo.
Pantone References
Whilst Pantone colours are matched by our graphics team as closely as we can, many companies have specific guidelines regarding the Pantone colours used for company-related products. Please check if this applies to your companies before continuing with a 1-4 colour spot print.
What is the Difference between a High-Resolution Logo and a Low-Resolution Logo?
Providing a high-quality logo ensures that your logo is printed crisply and clearly with no pixelation. Providing a low-quality logo often means that pixelation will occur, the image becomes grainy and the edges aren't crisp, leading to a blurred, unclear finish. It is important that the highest possible quality logo is provided to us to ensure your brand is represented with a clean, professional print.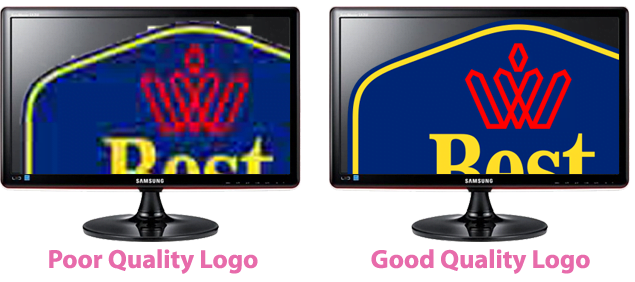 I Can't Obtain a High-Resolution Format Logo, What Should I Do?
Don't be alarmed, whilst high-resolution images are preferred, if a high-resolution copy of your logo cannot be obtained, simply get in contact with your account manager to discuss possible solutions and to see what a member of our experienced graphics team can do to help you.
Sign up to our newsletter!