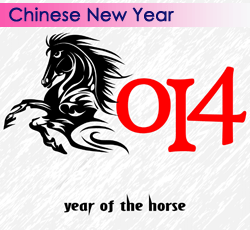 It's that time of the year, having just had our festive season, it's almost China's turn to take a break. This year the Chinese festive season lasts between Friday, January 24th January until Monday 10th February 2014, lasting through Chinese New Year and the Lantern Festival.
"What does this mean for Branded USB Memory Sticks?"
The production of the most USB related product is produced in China, from Flash Memory on the inside to outer plastic shells on the outside, and when Chinese New Year begins, all production in China ceases for a two-week period, this includes all factories, resulting in a production and delivery rush not unlike our Christmas period.
"What does this mean for my USB Project?"
What this means for your project is that it is integral that this holiday period is taken into consideration when placing an order for your USB Projects between now and early February as lead times will sometimes be longer than usually expected. If you are ordering from USB Makers, this topic will be discussed to ensure deadlines can be met for the time required. Please see below for details about ordering dates and delivery dates.
•    All orders must be placed before Friday 10th January in order to receive the product before Tuesday 28th January. (Allowing for USB Makers' regular lead time of 7-10 working days.)
•    Any orders made between Monday 13th January and Thursday 23rd January will not be able to be delivered until after Monday 10th February.
•    Any orders made between Friday 24th January and Friday 7th February will not be able to commence production until after Monday 10th February.
Please consult the USB Makers employee who is handling your USB Project about expected lead times for your project.
"I really do require USB Memory Sticks during this period, what should I do?"
If you do require USB Memory sticks during this period, we can still help. USB Makers works in partnership with alternative sources during this period via our express service to cover any jobs that may need to be catered for during this period. Please note that prices, available styles and printing options, however, do vary on this service in comparison to our regular service.
"I've ordered USBs before the cut-off date, will these orders be affected?"
It is highly unlikely. At USB Makers, we aim to deliver your product for the time that it is required. Chinese New Year occurs every year, and to the same effect, therefore we have experience of this period and have planned for this event well in advance.