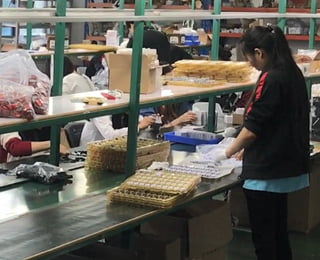 When you purchase our branded USBs on our Standard 10 working day service, they will be made and printed in our factory in Shenzen, China. Our factory is fully equipped to manufacture over 60 styles of USB, the various styles of Gift boxes that we offer as well as 9 Styles of Power banks, all in an array of colours and textures. They can all be branded using various printing processes including laser engraving, screen printing, pad printing, and full colour printing.
Our factory conforms to the strictest health and safety guidelines, to make sure that your branded flash drives are produced to the highest quality in a safe and clean environment. All our machines are operated by fully trained technicians, and our quality control workers run thorough inspections at each stage of the production process. Take a look for yourself:
Screen Printed USB Sticks
We can offer a range of printing options, including Screen-printing. This is a type of stencil printing, where ink passes through a fabric or mesh screen with a rubber blade, known as a squeegee onto the surface you want to print onto. Here's a live example of some of our USBs being screen printed:
Pad Printed USB Sticks
Pad Printing involves transferring ink from a silicone pad onto the item you want to be printed. The pad printing machine holds both the pad and the product steady and then presses the pad into an ink plate, which has been tailored to the shape of your logo or artwork. The pad is then pressed onto the object and left to dry. Pad printing is often used to print unusual-shaped objects, which is why we use it for curved styles such as our Button and Pod style USBs.
Full Colour Printed USB Sticks
Full colour is a term which means individual colours are created by blending four primary colours (Cyan, Magenta, yellow and black) otherwise known as CMYK or full colour printing. This combination of four colours can produce millions of individual tones and using these it is possible to reproduce a huge range of colours.
Laser Engraving USB Sticks
However, if you use a specific colour in your logo or artwork it is best to print in spot colours using a pantone reference. Pantone or spot colour inks are mixed to a calibrated and standardised specification. Pantone has established the range of specific colours for this process and all printers hold their colour swatch books. Once your branded USBs have been made, printed and checked, they are then dispatched to you ready to use in your next promotional campaign.

Richard is the founder of USB Makers and oversees all business activities including marketing, customer service, and business strategies.