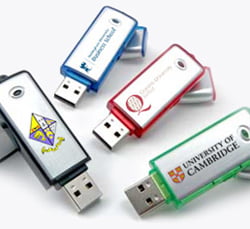 As the end of the school year approaches, the time to say goodbye to friends and teachers becomes inevitable. Whether it is the transition from primary to secondary school, or the giant leap forward to further education, an apprenticeship or a full-time job, it's an exciting and emotional journey for everyone involved.
In the past few years, it has become popular for teachers to celebrate their student's time at their school, college or institute by presenting them with a leaver's gift at their graduation. Rather than giving a cheap throwaway present, these gifts tend to be practical in nature, and a popular choice seems to consistently be a branded USB Flash drive.
As well as giving a gift to remind the students of the time they spent at their school or college it is also a useful one that can be helpful in future endeavours, whether to transfer coursework, presentations or portfolios between home and campus or the workplace. Being small and portable, the USB fits easily in a bag or pocket ready for use on the next project or assignment.
With the ability to print full colour on your drive, you can have your school name or crest printed or engraved on one side of the USB, with perhaps the date on the other, giving them a lasting gift that is both a special keepsake and also a functional device.

With a range of over 70 USB styles, you can choose the one that reflects your school or college the best, from the popular Twister USB drive , a handy USB Wristband or even a Custom USB made in the style of your choice (MOQs apply).
If ordering over 100 units you can even have your drive Pantone matched to suit your school colours (set up fees may apply). Whatever your budget or idea, we have a USB to suit. We can even help if the leaver's gift becomes a last-minute gift with our USB Express Service. With select styles available in 3-5 days or even 24 hours we can take the stress out of that eleventh-hour panic.

To make your gift even more personal, you could create a collage of photos from over the course of the year or record a video montage of goodbye messages to act as a virtual yearbook. With our free data uploading service, we can add up to 500Mb of content to your drives, saving you time and also money on printing costs. And in the process, your branded USB drive becomes a special memento of their school or college days.