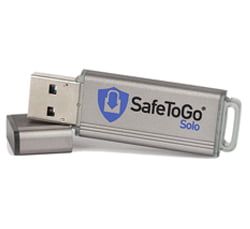 More than 20 million USB drives are lost or stolen each year, which can cause major security breaches if the data held on them is company sensitive or contains customers' personal information. With the EU's new GDPR initiative, it is more important than ever to ensure that USB drives are encrypted to prevent the information held on them from falling into the wrong hands if they are misplaced. Data breaches of this nature can have huge implications for the individuals involved who are left vulnerable to identity theft. It can also cause loss of business due to a lack of confidence in company security measures. The new legislation can lead to fines of up to 4% of annual turnover or 20 million euros (whichever is greater) if data is not encrypted properly.
With this important issue in mind, we are happy to announce that we are now stocking Safe to Go Solo® USB Drives!
Safe to Go Solo® drives are a hardware encrypted USB Stick, which is a much more effective encryption method than software-only options available. It uses military-grade technology to generate a unique encryption code that cannot be broken or hacked and is not susceptible to viruses. These encrypted USBs allow you to safely store data on USB drives without the risks of security breaches if the drive is lost or stolen, while also complying with EU legislation.
The easy-to-use drive requires no software installation, administrative access, or complicated encoding, making safely using your drive a stress-free process. If the USB is left in your computer port for a designated amount of time it will automatically lock so that it cannot be accessed without the correct password. In the event of it being lost or stolen, the drive is protected again fraudulent login attempts. Meaning you can use and store data on your drive confident in the knowledge that it cannot be misused, corrupted, or tampered with.

Some Key features of the Safe to Go Solo® drive are:
User-friendly set-up – no software installation is needed to use the USB
Password Protection – it is not possible to access the data stored on the drive without the correct password
Automatic Hardware Encryption  – with Advanced Encryption Standard (AES) 256-bit XTS encryption
Anti Brute Force attacking – built-in password attempt tracker, which tracks failed logins and will wipe the drive after 10 failed attempts.
Timer lock-down – after a set time of inaction, the USB will automatically lock
High Performance and Fast startup times – 5Gb/second
USB 3.0 drive – backward compatible with USB 2.0 and 1.1 ports
Factory Reset option – the drive can be wiped and reset as needed
Very Low failure rate (0.1%)
Compatible with Windows 7-10 and Macs
GDPR compliant
Safe to Go Solo® drives come pre-branded with the Safe to Go® logo on one side to distinguish them from other drives. While the reverse of the drive can be laser engraved (printing is not available with this drive) with your logo or website address as required.
This durable device is small enough to fit in narrow USB ports such as those used on tablets, but its metal casing and secure lid make a robust drive for a busy lifestyle.
The plug-and-play simplicity of this drive offers a hassle-free solution to USB drive encryption.  Available from just 10 pieces and in capacities of 8Gb, 16Gb, and 32GB you can be safe in the knowledge that any information stored on it will be kept secure.