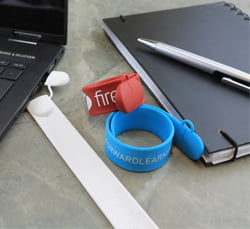 Increasingly popular with schools and youth groups, USB wristbands are a great way to help with identity on trips and excursions as well as providing a useful storage device for homework, worksheets and other related documents when out and about. The adjustable Slap-on Wristband is a clear front-runner in this sector. The magnet in the clasp means it can easily fit smaller wrists without running the risk of it slipping off and getting lost. The large print area across the band allows for plenty of room for a school or club name and they're also available in a range of shades or if needed, can be Pantone matched to coordinate with school or club colours.
The Gecko is a firm favourite amongst media and design companies who want something a little more cutting-edge and sleek for their projects. Although it has a smaller print area than other USB Wristbands, its stylized shape has won it a popular following. Constructed from light-weight PVC rubber, coupled with a more subtle clasp and a light pattern texture, gives the Gecko a sporty feel, and is perfect for the busy modern consumer, enabling wearers to access their data whenever and wherever they may need it.
The versatile Lizard band has proved to be the perfect option for Conferences and Seminar events. With one colour printing on the USB clasp as well as up to three colours on the band itself, they can be personalised for a particular event which is convenient for identifying timed sessions, especially at a large conference or trade show with a busy schedule. Hassle-free pre-loading of data means that timetables, presentations and supporting documents can be loaded ahead of the event, reducing printing costs and not burdening your delegates with heavy brochures and bags.

Our Glow USB Wristbands have proved to be a popular item of wearable technology at festivals and music events. Not only due to the unique glow-in-the-dark nature of the band – a strong crowd pleaser at outdoor and evening performances – but also because it can be pre-loaded with stage schedules, behind the scene info as well a bonus tracks and interviews. And most of all the silicone strap can be branded with the event name to double up as entry bands for the duration of the event. All our wristbands are available up to 64Gb so there's access to plenty of storage space, and no need to worry about how large your music and video files will be.
Corporate and Fashion event organisers often favour the Leather Wristband. This luxurious band with a leather-like finish and cool metallic clasp has a truly high-end feel. The band can be printed in up to 3 Pantone colours or for an extra personal touch, can be laser engraved. Printing your USB with your logo ensures that whoever wears your Leather USB Wristband or uses it on their computer, will be reminded of your logo each and every time, ensuring your branding gains maximum exposure
No matter the purpose they are used for, USB wristbands are an excellent way to promote a cause, brand and even to help with identity and admission access while proving a useful and convenient form of wearable technology.