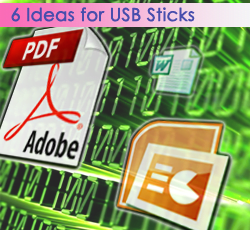 Uploading Data onto your Printed USB Sticks is an often-forgotten bonus of having your USBs printed with us. As standard, we offer a 500Mb branded USB data transfer option for all of our USB styles. Pre-loading data can serve numerous uses. We also offer a range of services to aid in getting the most out of your USB and its data. Your data can now go beyond simply the files that are on the USB but change the way it is presented to the end user. We offer Data Locking, Password Protection, Volume Labelling and increased data caps as additional options for your USBs. Additional services can increase the effectiveness of your campaign.
Details of Additional Services
•    Data Locking – This service partitions the drive and locks the portion with your data on it.
•    Password Protection – Password protect your data to make sure only the people you want to sees your data.
•    Volume Labelling – Change the name associated with the USB, this name appears when the USB is first plugged in and also
•    Increased Pre-Upload Cap – USB Makers offers 500Mb free of charge with most of its styles, however, this can be increased for a small fee.
Thought 1. For Browsing Your Product
Your Printed USB Memory Sticks can be used to give to your customers, loaded with information on your products, in the style of a catalogue, your customers can browse your products at their own pace, you could also include detailed insight into the products or even links to where to order the product. The advantage of this is that customers can interact with your content. In addition, it also allows you to load the drive with videos or a greater variety of photos of the product, something that would not be viable if distributed with a traditional catalogue.
Thought 2. To provide customers with your services
Your USBs are not only useful for advertising your product to potential customers, but also a perfect way to provide finished media you've produced for your customers. The USBs also play a double role as the perfect gift for clients, an item that is sure to be used practically and that, when branded with your logo, serves as a constant form of marketing promotion to the USB owner.
Thought 3. Load your USB with promotional materials
If you're pre-empting the release of a product, Printed USB Memory Sticks are easy to distribute your promotional campaign, data can be easily stored with information about your upcoming products. USBs are also small enough to distribute with ease. This could be video, images or other promotional materials pre-empting a release. USBs are now popularly used with press-release kits.
Thought 4. A Shortcut to Your Website
If you don't have specific data that is required for your USB Project, it could still be worth taking advantage of USB Maker's 500Mb pre-upload service by adding a shortcut to your website. This shortcut can even be pre-programmed so that the target website will be opened as soon as the drive is placed in the USB port.
Thought 5. Documents for your Employees or Students
USBs don't have to just be for your clients. Having USBs pre-loaded with relevant information such as guides and presentations are a popular option amongst companies that present often, and in schools and universities, for teachers and students who may also need the same documents.
Thought 6. As a Portfolio
USBs also work well as portfolios for media-based productions. If you're a musician you could even pre-load sample tracks for potential listeners to enjoy. Photographers can put sample photographs on your USBs. Web designers can include preview designs of their work. Or filmmakers can include clips of their previous projects. Let your potential customers see what you can do.
Adding data to your USB can significantly affect the way it is distributed and used, whether it is by yourselves or the end user. The data you load onto your Printed USB Memory Sticks are only limited by the drive's capacity and can be as much a part of your USB project as the outer design.