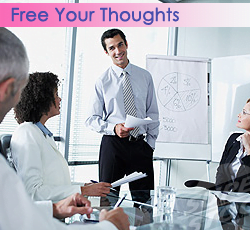 If presentations are made regularly in your company, it may beneficial for your employees to provide them with a Branded USB Memory Sticks. Introducing portable media to transfer files between platforms have proven beneficial to a working environment, encouraging productivity, interaction, presentation of new ideas and continued thought and contribution to work outside of office hours and locations. Ensuring your employees have a platform for storing their data, especially in a job that requires a lot of out-of-office visits and exhibitions can mean Branded USB Memory Sticks could be essential to effective productivity. Standard documents that are required by all who receive a USB can be pre-load to your USB by USB Makers at the source.
For Presentations
Encouraging your employees to think outside the box can often prove to evolve your company and give your employees a sense of satisfaction to feel their contribution has helped their working environment, a great way to do this is to encourage your employees to develop their own ideas and form proposals, which can be stored on their USB, should they get a stroke of genius when not in the office, these ideas can be typed up coherently and presentable on their PC and stored on their USB to be presented to other employees.
For Exhibitions
If your company has just presented a lecture to an audience, it can be easily be forgotten in a few days by the audience, even if they listened intently, details are forgotten. An excellent way to ensure that your information is retained by those you want to retain it most is to provide your audience members with a complimentary USB drive, pre-loaded with slides or additional information on what was discussed in the presentation, allowing your potential clients to read and refer to at their leisure. This giveaway also serves as a corporate gift, and functions as brand awareness, giving your Branded USB Memory Sticks a triple purpose.
Branded USB Memory Sticks from USB Makers can be ordered with a 1-2 colour print included as standard, alongside 500Mb of pre-loaded data, so if your presentations or resources are ready to go, it may be time effective to have your files pre-loaded at the source. Data can be sent to USB Makers via e-mail (If smaller than 10mb) or via USB Maker's FTP. Alternatively, these files can be sent via a free cloud service such as Dropbox.
If you're an important part in the working life of your company, utilizing Branded USB Memory Sticks can make a lasting impact on the lives of yourself and an environment that a lot of your time is spent in by yourselves and your fellow employees. Encouraging free thought and ideas that can positively build your business in an organic manner, keeping you ahead of your competition.