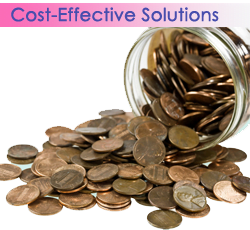 Often budget can be an important factor when it comes to your advertising campaign, however, a cost-effective solution could be Twister Memory Sticks. Twister Memory Sticks fall into our cheapest price category, alongside the Titan and Dixie style USBs. The Twister USB is perhaps the most recognized style of USB available today a popular choice for its convenient pocket-friendly size and the fact it is completely capless. Aesthetically speaking its style can be used for a wide variety of purposes, with the right logo and colour the USB can exuberate a corporate feel or something fun.
Twister Memory Sticks are the most commonly Pantone-matched USB drive. For an order of 100 units or more, for a small fee of £20 per order, your Twister's coloured shell can be matched to a Pantone colour of your choice giving you the freedom to choose from thousands of colours. A common request is to match the coloured shell portion to a colour found either in your logo or a colour associated with your company, check with your company to see if it has certain Pantone colours that your USB can be matched too. Simply request a Pantone-matched shell as an additional in your quote request and a member of our experienced graphics team will be able to produce a free visual mock-up with no obligation to proceed with an order.
Twister Memory Sticks come with a 1-2 colour print both sides and 500Mb pre-loaded as standard. If you should require more colours or a full-colour print, or more data pre-uploaded, this can be arranged for a small additional fee. Capacity sizes range from as low as 64Mb to a large 16Gb, meaning however big or small your data requirements are, there's a capacity size to suit you. If you are unsure what to upload or don't have documents ready for your campaign, many customers choose to add an internet shortcut, leading customers straight to their website, allowing customers to find out more about them at the touch of a button. In addition, USB Makers endeavors to offer the best quality products for the best price. Our prices are always competitive, however, if you happened to find a better price for the same USB and spec, please contact us to see if we can price match or beat the price offered.
Twister USBs are the logical choice for anyone who requires a USB for their promotional advertising campaign, especially if you are unsure what style to choose, the Twister never disappoints. Its metallic 'clip' adds modernity to the style, whilst being the perfect backdrop to accentuate your printed logo. The plastic shell is also the perfect canvas for Pantone matching to further support your logo. If the usual twister isn't your cup of tea, whilst not as cheap, the Twister has many sibling styles including the Oval Twister for a unique shape, the Corporate Twister for something a little more professional or the Mini Twister for something even more space efficient for your project.