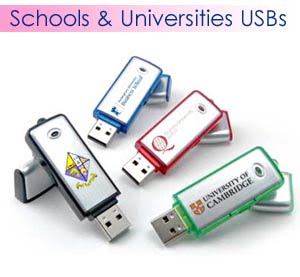 How successful is your school? Can you foresee the future of your college? Maybe your university is strolling along 'ok'…but do you not want that big and established identity?! (Yes, we all wish we were as big as Robbie Williams!) Well you can…the future to your success is the charismatic method of marketing and the triumphant company that can give you the energy to move forward is the one and only…USB Makers  (no applauding please!)
Schools, Colleges, and Universities are in a highly competitive market (swords at the ready!) and without an established identity the road to success will diminish. You do not want to admit defeat, do you? You are a fighter (watch out Jackie Chan!) Parents are in an uneasy position when choosing the 'right' establishment for their child to attend (even if they do disobey, go off the handle and run riot at home!) By marketing your brand – you will emphasise the extensive appeal of your company to parents and their children worldwide! Worldwide I say!
We offer Promotional USB Drives that can personalise and highlight your school's brand! We manufacture impressive and high-quality products that are available in over 30 styles – now that is an enormous bunch!
Calling all of you schools, colleges and universities out there – the answer to your prayers (now do not thank us just yet) are incredible and personalised USB drives! Your target markets include; new students starting in September. Graduates for their extensive and continuous hard work ethics (not of course for their hardcore partying and drunken antics during at least five times a week…) and even for your members of staff – repaying them for their long hours of work (now who is their favourite boss!) branded USB flash drives are niche and useful gifts that can be used time and time again! Technology is becoming more and more developed (robots are the future!) and what better way to promote your brand and support your pupils with this unique piece of merchandise?!
You could have your school brochure uploaded onto the USB Drives (along with school rules – naughty kids must be told!) PDFs or Images where we offer locking, unlocking or an auto-run for your pre-loaded data – very efficient if I say so myself! The minimum order quantity is 50 units but I'm sure you may require one or two more than this…it would be like fighting for a few needles in a haystack between those thousands of conscientious students! We also offer up to a 4 colour spot print of your logo/text on one or both sides and our universal memory sizes range from a mini 64 Mb up to a mind-boggling 16 Gb!
We also offer you the option to create 'bespoke' promotional USB Flash Drives from scratch which are made from PVC Rubber (not PVC the material for you biker dudes out there!) We also offer attractive and useful USB accessories to comfortably accommodate your USB Flash Drive order (please see USB Accessory Blog – I wrote that one as well!) We offer only the best Premium A Grade Chips that there are at extremely competitive prices! Do not miss out on your chance! Call us now before the term begins…