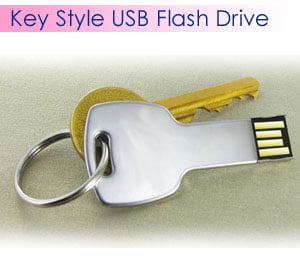 What is the key to the success of your company? Do you want to have the opportunity to promote your company in an even brighter light? Do you desire international brand awareness? Too good to be true?! Never! Well, lucky for you, we  can be your knight in shining armour to your damsel in distresses! We are the number one UK Branded USB Keys that can provide you with the best ever A-grade drives at the lowest, and I mean lowest prices! Are we the key to your door? The jelly to your ice cream? The answer to your prayers? (Well yes, the answer to your promotional prayers anyway!) Then we have the answer for you…
Have you ever wanted to catch the eyes of your fellow target customers but you simply do not know which direction to go in? Do not be like the current house market and downturn into a 'numb plum!' You need an extravagant promotional tool which will advertise your brand in an enormous way whilst being a 'handy harry' object to carry around! Well…in relation to houses…why not take a look at our USB Key Flash Drives! Yes keys indeed (and no they are not real keys but they look like it!) Silver, black, blue, white…your company could have your key in nearly any colour – all you have to do is ask our enthusiastic Sales Team!
The minimum order quantity for the USB 'Key Style' Flash Drives begins at 50 units in silver, however; for the additional colours, the minimum order changes to 300 units (now that would enable you to treat your staff members as well – only if they are on Santa's good list of course!) Capacities range from a popular 128mb to a tremendous 64Gb – now that is an exceeding amount of space for you technology fanatics! USB Makers offers a 1 – 4 spot colour print on one or both sides…or…feeling slightly more creative and 'snazzy?!' Then why not 'hop' for the engraving option? Go on – be different and make your company stand out! Data upload is available – free up to 100 Mb of course (now that is just because we are the best!) Data locking, auto-running, or unlocking are also available options for those companies with pre-loaded data – we want to help you as much as we can to promote your company to the top (ok not to the clouds but not far from there!)
USB Makers does indeed have a number of 'key style' shape USB Flash Drives for you to choose from. Please do not hesitate to take a look at these styles at; www.usbmakers.comCome on, come on, come on! What are you waiting for? Let us be the solution to your promotional quest!