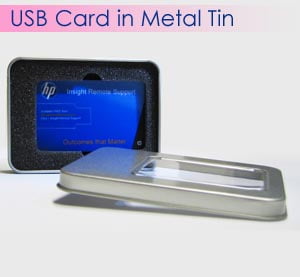 Does your personalised USB drive look plain and a 'tad' bit lonely? Does the USB appear as if there is something missing? An accessory or two needed? I thought so! Who can you call for help in your desperate hour of need…USB Makers!
We offer an extensive portfolio of accessories – and by this, I do not mean shoes or bags ladies! A USB accessory can enhance the appearance of your USB Flash Drive dramatically, making them even more appealing and reliable for your customers to use and travel around with. How can you go wrong with adding simple and superior accessories to your order for just a 'tinsy weensy' small additional cost?! The answer is…you cannot!
Why not pack the USB Twister Flash Drive into a Presentation Box…it is 'sheek', attractive and travel-friendly! Or, why not accommodate the USB credit card style flash drive comfortably in the Metal Tin? A shiny, chic and 'swanky' accessory that is guaranteed to keep those branded USB flash drives all tucked up safe and sound ready to pass onto your targeted customers! Pockets are also useful for you folks out there who like to keep their USB drives cushioned and supported in a colourful garment – and by this, I do not mean underwear! Our other recommendable accessories that will truly intensify the 'look' of your USB drives to the max are; the Ball Chain, Keyring Chain, Keyring Clip, Keyring Cord (those are a lot of Keyrings!) Keyring Swivel – and the repetition continues…Lanyards and Blister Pack! Whatever accessory you choose, it is sure to make your USB Flash Drives appear even more outstanding and 'handy' for all of your customers!