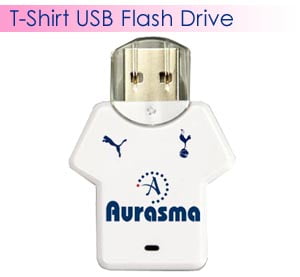 What a phenomenal victory for Tottenham Hotspur on Sunday as they attained a glorious win over Liverpool at White Hart Lane! A 4-0 defeat was brought to the attention of all dedicated Spurs fans (including me) when Luka Modric, Jermain Defoe, and new addition; Emmanuel Adebayor scored a total of four smashing goals to bring the team to a lead and final win once the 90-minute whistle was blown. Did you see the game? Or did you happen to see the poor open goal missed by Fernando Torres at the Chelsea V Manchester United game also at the weekend?! What a clanger!
Just a thought….what a way to promote a sponsor eh?! Football Clubs use their shirts to promote the sponsors that input cash flow and even more 'dosh' as they call it into the clubs daily, so why can companies not do the same for promoting their brands to their specific target markets in a similar way?! Well, they can! we offer a 'T-Shirt style' promotional product similar to the football shirt…The T-Shirt USB Drive! Not only will it provide promotional awareness to customers but it is also a useful and light product that can easily be carried to and fro!
The T-Shirt logo-printed USB keys have a number of major assets! The memory sizes available for this particular style range from a mini 128Mb to an enormous 64Gb (and we are talking big in size here!) We can print up to four spot colours per side on the USB Drive and data upload is available up to 400 Mb free of charge! We also offer options for the preloaded data which are; locking, unlocking or auto running which is again free! Too good to be true you say? No way! USB Makers UK can achieve this for all of you companies out there…including football clubs in fact! A Tottenham Hotspur T-Shirt Style Flash Drive…now we are talking!