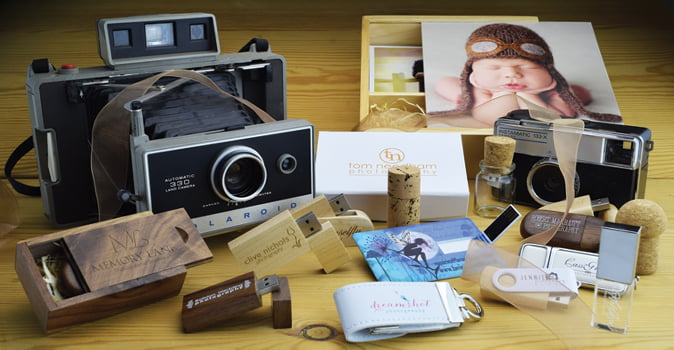 With tablets and Macbooks no longer being built with internal DVD drives, producing personalised DVDs for wedding couples has become an unrewarding chore. Even without the issue of not having a drive to create the disc on, printing custom DVD labels and compiling the files to burn can be a time-consuming task. But where the alternative FTP options like DropBox gives instant on-the-go access to files, it can be underwhelming to not have a physical product as a keepsake or memento of the special day.  And that's where Branded USB Flash Drives fit in.
Your edited files are stored on a handy device that can be accessed easily by yourself, or your clients on a tablet, laptop, PC, Mac, or even a smart TV – basically any device that has a USB port! It is also easy to replace or add any files on the drive, unlike a disc which can be tricky to edit if a non-rewritable version has been used.  Amendments to a CD or DVD can often lead to having to re-start the process again.
Another advantage is having a choice of memory sizes. CDs and DVDs can only hold a limited amount of content, whereas USBs come in a range of sizes, from 128MB to 64GB! So there is no need to worry about having to choose a select amount of images as they will all fit with space for video files as well.
Personalisation is also key to creating a lasting gift. All of our USBs can be printed or engraved with your logo or artwork. If you order through the online store on our sister site USB4Photographers.com you can buy just one USB and Box meaning it can be personalised with the couple's details or even a full-colour picture, creating a truly unique keepsake just for them.

With over 90 styles of personalised USBs to choose from you can opt for the one which suits your branding the best. Popular styles include the faux leather Hermes with its metal surround, the crystal with a choice of coloured lids, or even the stunning Heart USB which is encrusted with crystals on one side of the drive.
Our extensive range of gift box options means you can create the perfect package, whether a budget-friendly white magnetic flip box, a rustic wooden box, or one of our elegant photo boxes, which come in various sizes to fit print photos as well as a USB. You can combine the tangibility of a photo album with the practicality of a USB, all enclosed in a personalised box to keep the contents safe and secure.
We offer USB 3.0 in 8GB and above for faster transfer speeds and all our drives are compatible with Macs. However, we do recommend you reformat the drives from FAT32 to exFAT before transferring larger files to avoid any errors or data corruption.
USBs have become the go-to for photographers in the past few years and the trend doesn't seem to be dying out. With low minimum orders and options to suit all budgets, you are certain to find the perfect alternative to printed DVDs and CDs and to create a lasting impression on clients.