The use of promotional merchandise can have countless positive impacts on your brand, effectively complementing its overall marketing strategy. Branding your company's logo on promotional merchandise should be considered an investment and shouldn't be something to shy away from when allocating a marketing budget.
Most people love to receive free stuff from companies, particularly if it's something that's beneficial to them. It's believed that, on average, customers will keep hold of promotional products for one to five years, with the more useful products being kept for the longest period of time. On top of this, people's impression of a brand can be positively changed as a result of receiving and using said promotional product.
So, what's the best promotional merchandise investment?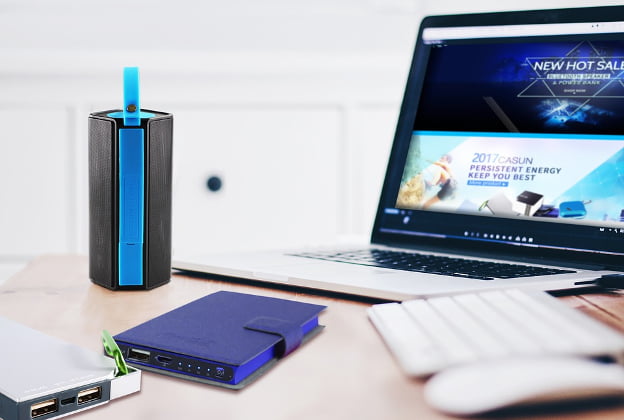 What must be considered here is that the product must work well for your business and be carefully selected to get the most out of the investment. And while it's been established that branding useful products are the most beneficial marketing strategy, there is still a large variety of merchandise to choose from.
In recent years, the promotional market has seen a shift towards branded tech products. This is mostly down to the fact that many of these tech products are multi-functional and therefore can offer a whole range of benefits to your potential customers.
One of the most sought-after promotional items is logo-branded USB drives. They stand out from the merchandise crowd and are one of the most used tech products around. Here at USB Makers, we enable businesses to create a fully bespoke custom USB drive, giving you even more of an edge over your competitors and helping you get your name out there.
Other promotional products tearing up the tech scene are power banks and branded charging cables. In this day and age, people are always on the go, so the need for a quick top-up of charge is in high demand. By branding a power bank or a cable, not only will the product get great usage, but it's something that people carry out and about, so it's an effective way of getting coverage for a business.
Promotional speakers and headphones are other popular choices. These devices appeal to almost any audience, allowing music to be played anywhere. As portable devices, these gadgets get taken away on days out, business trips, and holidays, therefore the brand is likely to attract attention from a large variety of people, potentially all over the world.
In conclusion, when operating in a crowded marketplace it can be hard for a business to get noticed. Using promotional products can help these businesses get seen, as the more a branded product is used and interacted with, the more familiar the customer becomes with the products or services that are offered by the business, therefore the more likely they will be to purchase something in the future. From a marketing perspective, investing in carefully selected promotional merchandise is a great way to naturally build relationships with customers.