The need for greater speed and capacity is more important than ever, with the digital world ensuring that we need to keep up with technology and taking more and more with us when we are on the move.  This is why, here at USB Makers, we are keeping track of the status of USB 4.0 to ensure we can meet your needs when supplying your branded USB memory sticks. It is anticipated that the speed increase will be in line with previous spec revisions and we will see approximately 10,000 MBps which will be ten times faster than both its predecessor and Thunderbolt.
Time is of the essence
Whilst is it still unclear of the actual launch timings of the new USB 4.0, it is reported that we should see the release of this memory stick towards the end of this year or early 2020. USB 4.0 brings with it faster transfer speeds, power delivery and better data stream management than its predecessors.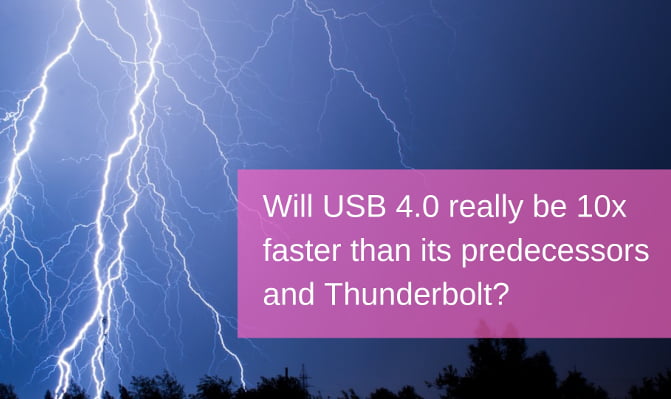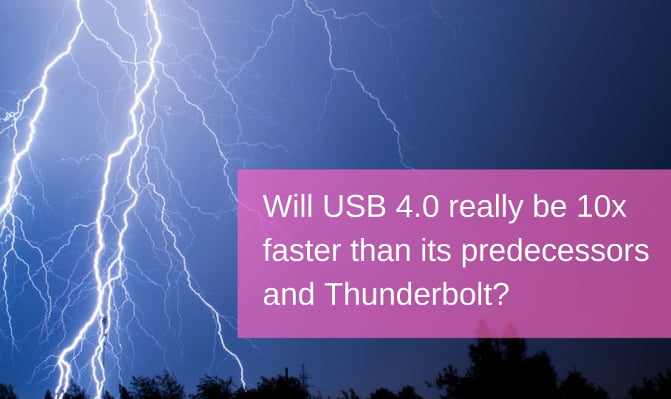 Why more speed?
Nowadays you can expect between 2,000 and 4,000 GB to be the norm on a memory stick compared to the 250 GB which was considered large for any hard drive. The demand for these memory sticks to be bigger and better is largely down to the high definition audio, video, and photographic files which are so commonly used and require increased capacity. With the constantly evolving retina display, devices can display greater pixel depth, and the older jpg's that used to look just fine start to look poor in comparison to higher definition images. The same could be said for audio, originally the bitrate for an mp3 music track was typically around 128 KB/s, nowadays lossless formats are increasingly popular, and they run at bitrates ranging from 400 KB/s upwards. Then there are the video file sizes which have grown enormously e.g. blue-ray. Copying a 25 GB blue-ray can take approximately 15 minutes using USB 2.0, with USB 3.0 it can take just over a minute, with 10 Gbps USB 3.0 can take less than 30 seconds and with USB 4.0 it will no doubt take even less!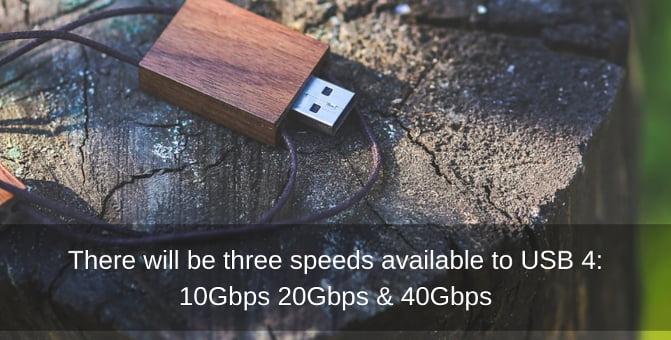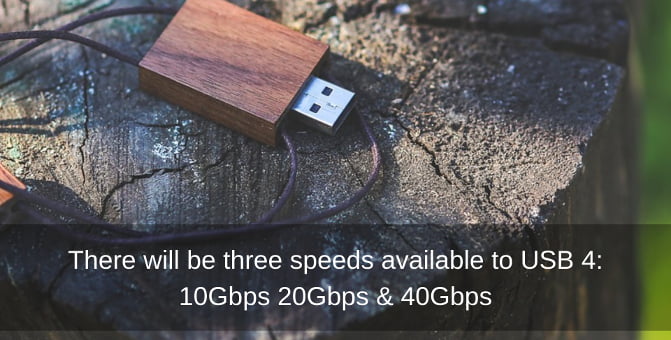 A specification to beat all specifications
The specification for USB 4 has recently been announced and will bring a range of improvements to USB 3.2 and USB 2. USB 4 is based on Thunderbolt architecture, which doubles the bandwidth of the current USB technology and can handle multiple data and display protocols at the same time.
It will look like USB-C but boast data-transfer speeds equivalent to Intel's Thunderbolt 3 version of USB-C. If you are still using adaptors to make your USB-A devices compatible with USB-C ports, then another version of USB arriving might sound daunting so here is what you need to know about USB 4.0 and the differences between USB 3.2 and USB 2.0;
Up to 40 Gbps data transfer speed using two-lane cables, matching the speed of Thunderbolt 3
Better video performance thanks to the technology intelligently allocating resources based upon transfer demand
Thunderbolt 3 is compatible depending on how the USB 4 technology is implemented
Will use Type-C ports
In addition to this, there will be three speeds available to USB 4 (10Gbps, 20Gbps, and 40Gbps) and you can usually expect the smaller and less expensive devices to be capped at the lower transfer speeds.
Supporting the delivery of power
Only certain USB-C ports support USB Power Delivery and this is a requirement for charging some devices including laptops. Every USB 4.0 device and port will support USB Power Delivery as standard with the ability to support up to 100 watts, although no charging device will provide anything close to that amount of power just yet.
The biggest difference for everyone will be the jump in USB speeds (non-Thunderbolt) depending on your gear, from 100% to 700%.  So those of you with USB 3.0 ports which max out at 5 Gbps, you will be blown away by the 40 GBps from the USB 4.0.