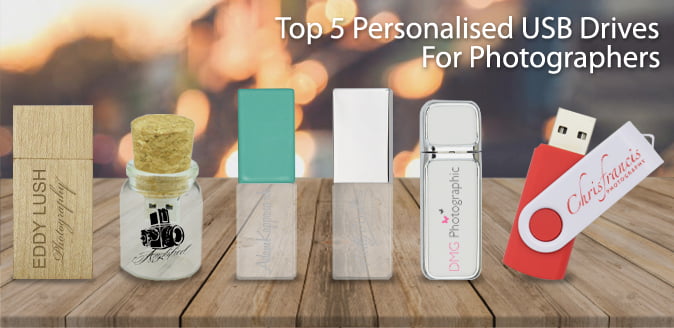 Personalised USB flash drives are increasingly becoming the go-to for photographers when supplying photos for weddings, engagements and other special events. They remove the need for cumbersome albums; the photos saved on them can be easily shared without the need for internet access and most of all flash drives are small and portable.
Custom Printed Flash Drives are available in a wealth of styles, memory sizes and made from a variety of materials. Each USB drive can be personalised with a logo, text or artwork and printed in 1-4 spot, full colour or in some cases laser engraved. They are also available in a range of colours, or can even be Pantone matched if required.
To keep the drive safe, it can also be paired with a USB Gift Box, which ranges from simple but stylish magnetic boxes to ones that also holds photo prints, creating a link back to the traditional album. There is also a choice of materials, including card, wood or heavy canvas depending on your preference, and these too can be personalised.
But in some way there is almost too much choice when it comes to memory sticks. Should you go for something simple and understated, or a drive that is overtly elegant? To make things easier, we've outlined 5 of our most popular drives below.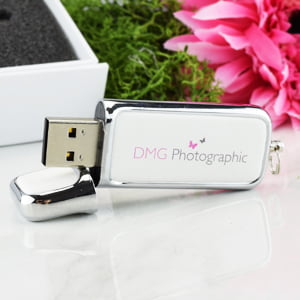 Hermes USB Stick
The Hermes USB drive is a clear front runner. Its faux leather body and metal surround personify style and elegance. Available from 128mb to 64Gb, this drive can hold as many photos as you can take of your special day or event.  Choose from a white or black drive and have it printed or embossed (MOQs apply) with your logo or text. Pair this drive with a large white photo prints box to create a stunning memento.
Wooden Block USB Drive
The smooth finish and rustic charm of the Wooden Block USB Stick makes it a firm favourite with photographers. This drive is perfect if you are looking for a more understated stick to hold your precious memories. The large surface area can be printed or laser engraved and is available in a range of memory sizes, starting from 128Mb.  The large Wooden Photo prints gift box is the perfect pairing for this simple yet charming drive.
Crystal USB Flash Drive
If you want something extra special then the Crystal USB sits at the high end of our USB selection. This unique drive can be 3D laser engraved internally at over 50 pieces, or surface engraved for lower amounts. With a choice of coloured lids it's easy to find the right one to suit the style of your special occasion. Create a timeless keepsake by matching it with one of our Elegant Gift boxes, which can also be engraved with your logo or artwork.
Twister Duo
The Twister Duo USB Drive is available in a range of coloured bodies matched with a white clip. As the clip swivels round to protect the drive there is no cap to lose making it perfect for use on the go. Personalise this classic drive with your logo or artwork in 1-4 spot colours or in full colour if you prefer. This drive fits all of our USB gift boxes, but a favoured combination seems to be the white magnetic gift box.
Glass Bottle USB Drive
If you want a real show stopper, why not pick the Glass Bottle USB drive? The USB sits in the cork lid and is certain to be a talking point. Although the USB can be printed, many customers prefer to leave it unbranded and instead fill the bottle with confetti or ribbon to create something truly special. Available in up to 64Gb, this drive looks particularly stunning with the dark wooden photo prints box.
Custom USB Gift Boxes
Choose from our top picks above to create the perfect USB gift set for the forthcoming Wedding Season 2019. All of our USB flash drives can be personalised and when paired with a USB Gift Box they are available from just one unit to make them truly unique.