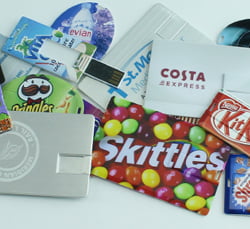 Promotional giveaways are an innovative and fun way to increase brand awareness and customer loyalty. But choosing the right piece of merchandise can be overwhelming, with almost too many product choices on the market. Should you go for a logo-printed pen, bag or perhaps a mug? While all of these items can be branded with your logo, pens can get lost, bags are thrown away and mugs can get broken, whereas a promotional USB memory stick can be used again and again.
Branded USB flash drives are incredibly popular because they're so easy to use. They're also small, mobile and available in a variety of styles and colours. The practical and convenient nature of a promotional USB means regular use will gain repeated exposure to your branding, keeping your company name in the forefront of your customer's minds. It can also be easily turned into a piece of wearable technology by pairing it with a printed lanyard or keyring for ease of use at conferences and events. But most importantly it is a handy tool for your clients to store and transfer data. Most research suggests that the more useful the promotional gift is, the more likely it is to be used and have the required results. Investing in a tangible, functional product reduces the risk of wasting your budget on flimsy, throw-away items that are easily forgotten.

The other benefit of using a USB is being able to pre-load your latest brochure, presentation or pricelist onto them before you give them out to clients, saving you time and money on printing costs. Last-minute alterations to your documents don't have to incur extra stress; you can just replace the file rather than having to print it all over again.

If you're faced with a last-minute deadline you can take advantage of our Express Service and get your drives in either 3-5 days or even 24 hours (select styles only). You could also pair your drive with a USB Gift box to really make an impact on clients and provide a safe storage place to prevent loss, particularly important if your drive contains sensitive information.
Print your logo on the versatile and ever-popular Twister USB with its moveable clip. Or take advantage of the USB Slim Card's large print area to do justice to your branding by printing edge to edge in full colour or create your artwork to reflect your business card. If you want something truly unique, you could opt for a custom PVC USB which can be tailored completely to your design idea.

With our extensive range of USB styles available in a variety of materials and colours, you can find the right one to suit your branding and budget. Many of our styles can also be Pantone matched to fit with your corporate colours.
Whatever your budget and deadline, we have a USB flash drive to complement your latest project or campaign and make a lasting impression on clients.