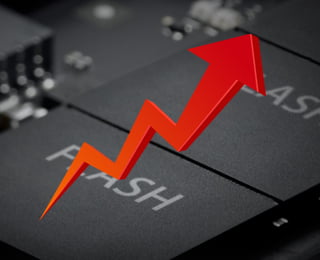 The past few days have seen a rapid increase in the price of USB flash drives and unfortunately, it doesn't seem like they will decrease anytime soon.
The market has recently seen a 20% price hike, this is partly a reaction to a power outage at the Toshiba and Western Digital factories. Although it was reported to have lasted only 13 minutes, the factories have been offline for a few weeks while investigations are undertaken to isolate the cause. This has meant a reduction in the amount of Nand chips being produced, which is said to be between 6 and 9EB (exabytes). This figure represents half of Western Digital's quarterly Nand production and around 20% of Toshiba's. This shortfall has meant higher demand from other factories and this, in turn, has increased the price.

In the meantime, Samsung is planning to raise its Nand memory prices by 10% due to Japan's export controls on trade with South Korea. Until recently, Japan and South Korea have an important trade and tourism relationship with each other. But due to the deterioration in this relationship, which concerns a compensation row over forced labour in WW2, Japan has announced that they will apply new restrictions on exports of semiconductor materials to South Korea. This change will mean that Japanese suppliers will need to apply for a license to export three materials used in the production of semiconductors, which are also used in the manufacture of smartphone displays and televisions in South Korea.
While these turbulent relations continue we could see Micron Technology increasing its prices as well. However, despite these issues, Industry insiders believe these price increases will be resolved in the long term.
But until they stabilise, we will continue to work closely with our suppliers to keep our USB flash drive prices as steady as possible.