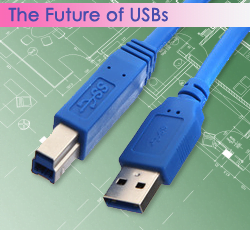 USB Technology has come a long way, with Custom Flash Drives being the new must-have accessory for any consumer in the digital age. USB Technology was first developed in the mid-nineties with USB 1.0m however it wasn't without its problems, having issues with low data transfer speeds. These issues were corrected soon after and USBs became used en masse by the public.
It was in 2000 that USB 1.0 was discontinued in favour of USB 2.0, a newer model of USB still widely utilized today. Although the shape of the port may have changed and increased capacities became viable, it is undeniable that USBs have rooted themselves in technology, now more than ever. But what lies in the future of USBs?
USB 3.0
USB 3.0 was first released in 2008, designed to be the successor to the 2.0, the 3.0 has yet to establish itself as commonplace in the market, predominantly being found on peripherals that require the USB 3.0's transfer speed. Potential innovations in future USBs include:
•Dual Transfer of Data – USB 3.0 is able to transmit data whilst also receiving data at the same time.
•Increased Transfer Time – 5Gbs per second, a dramatic increase from a transfer of 64Mbs per second on the 2.0.
USB 3.1
With the type-a USB 3.1 model newly revealed to be in the works, whilst still not integrated enough to become a viable option for Custom Flash Drives in the foreseeable future like the 3.0, the new model adds the prospect of USBs that rival that of Apple and Intel's newly developed Thunderbolt technology, offering an impressive data transfer of 10Gbs a second, a dramatic increase from USB 2.0's 60Mb/s of speed and double that of the 3.0 USB's speed.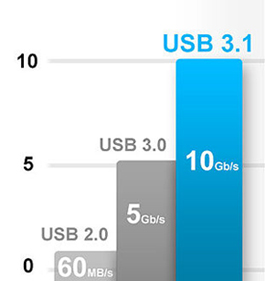 It has also been theorised that the unpopular reception of the 3.0 and its lack of integration into mainstream technology may be due in part from the newly introduced plug shape, only compatible with new 3.0 plugs. This will be rectified with 3.1 USBs, which utilize the 2.0's plug shape, making it compatible with all computers already built with USB 2.0 plugs.
Only time will tell whether or not 3.0 USB Technology will make it into the mainstream enough to be utilized with a Custom USB drive whilst remaining cost-effective, especially considering that its dramatic increase in speed and capabilities are only currently required for select products. However, it may be that this changes as time goes on. There may come a time when 3.0 USB Technology will be required for the ever-increasing sizes of files and computer capacities. However for the moment, 2.0 USB technologies remain current, 13 years after its release, and 13 years of utilization and development.