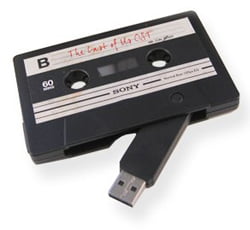 While most people see USB flash drives as a mundane necessity that simply stores and looks after our completed hard work, at USB Makers we believe that creating unusual and diverse Custom USB sticks can stimulate our creative side and add the fun factor to memory drives. At USB Makers, originality is just as important as the quality, and we deliver both. Whether you are just starting up a business or restyling your current office, it is important to give employees a unique and stylish USB flash drive. Here is a list of our unusual USB Flash Drives, a collection so varied, that you are sure to find the one for you.
Retro Bottle Opener USB Stick:
The name is self-explanatory, and our unique design boasts a USB Flash Drive on one side, and a bottle opener on the other, perfect for those late nights working! The device is compatible with Windows 98 to Windows 10 as well as Mac and Linux and ranges from 64Mb – 64Gb in memory. Designs for the bottle opener can range from standard beer manufacturer logos to your own unique business or personal design. The flash drive weighs 30 grams, and can easily be attached to a keyring through the hole at the bottom of the USB. A truly cool and multipurpose design, intended to benefit the user in numerous ways.


Rubix Cube USB Stick:
Our Rubix Cube design brings an unusually funky theme to your flash drive and can be customised with up to four spot (solid) Pantone colours of your choice on each square. This can also be your business or personal logo. The flash drive contains an eyelet, which attaches to a keyring so that your unique memory stick does not leave your side. Compatible with Windows 98 – Windows 10, Linux, and Mac, it is safe to say that the Rubix-designed stick is an all-rounder. Due to its larger shape, the Rubix Cube flash drive is also more noticeable in your pocket, making it harder to lose. With a weight of only 17 grams, it is a cool and minuscule mask for a flash drive.
USB People:
USB People is a new and unique way to promote your business and raise brand awareness through a variety of figures ranging from rubber head people to metal USB people or even custom designs, to create an even more distinctive flash drive that is unique to your business.
Most of our USB People have a memory range of 8GB – 32GB so memory will be no issue. With USB people, we can create employees in any field from construction workers to surgeons and even Santa Clause for the festive season. We also offer celebrity USB people flash drives such as Tony Montana and Rocky Balboa. We could also place uniforms of your profession onto the USB People.
The USB People come with movable arms and legs, with a variety of hair and skin colours, and attire. We can even offer you a visual mock-up just by sending us a picture to replicate; it is a completely free quote with no obligation to proceed. This mock-up can be of you, or your favourite TV or movie character, either way, we promise to deliver individuality. This is a perfect way to distinguish your flash drive from your co-workers, or if building a new business, purchase them for the whole team to avoid confusion.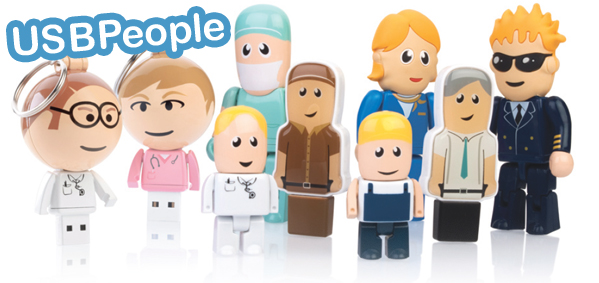 Drinks Can USB Stick:
The Drinks Can flash drive comes disguised as your favourite beverage, and with the option of having the drive in aluminium material, it really will give you the authentic drinks can look. The drive memory ranges from 64MB-64GB, and with a weight of only 10 grams, this is a compact and subtle accessory. It also comes in plastic material as an alternative to aluminium. The Drinks Can is a simple plug-and-play feature, which requires no external power. The drive is available with the option of soft drinks (see above) but also your favourite beer brands such as Heineken and Amstel. The drive is compatible with Windows 98 – Windows 10, Mac, and Linux, and like all of our drives, comes with a lifetime warranty.

"Retro" Audio Cassette USB Drive
Initially created to accompany the release of "The Last of Us" game for PlayStation 3, the Retro Audio Cassette USB gives off a real feeling of nostalgia to the user. As well as being a completely unique and modish design, it is also a very solid gadget, made from high-quality materials. The additional cassette library gives this retro tape a really authentic feel and will give any user an evocative feeling of carrying a piece of 1980's with them. The memory on the cassette ranges from 64MB – 64GB, with a 100-piece minimum order. The retro cassette comes with a lifetime guarantee, and at only 34 grams, it is fairly light for a flash drive of its size. The drive also comes in two colours; black or white. The Retro Audio Cassette is compatible with Windows 98 – Windows 10, Linux, Mac, and requires no external power so simply plug and play!