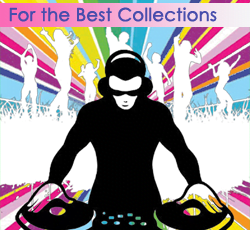 Carrying around your entire music collection can be bothersome for anyone, especially if you're a DJ with an extensive music collection that needs to cater to the tastes of every listener, with the average DJ's song collection spanning into the thousands it's easy to see why Logo Printed Memory Sticks is a popular alternative.
Even with modern conveniences such as CD Wallets, music enthusiasts with large collections often find their collection taking up boxes upon boxes of space, especially with notoriously heavy old-school vinyl collections, not exactly convenient for a DJ on the move. USBs take the fuss out of the situation, giving you a compact and convenient way to transport your music.
With the highest capacity holding an average of 3686 songs, it is easy to see why it's a popular option for DJs. We also offers a free data transfer service of up to 500Mb. For a small cost, this can also be increased. USB Makers also offers several additional services to enhance your data, including locking your data to make your songs irremovable We can also change the USB's volume label and password protect your data, to make sure your songs are for your use only.
Storage Averages
How much a single USB can store is important. Based on an average of 4Mb per song, Logo Printed Memory Sticks can hold roughly the following:
•    128Mb = 28 Songs
•    256Mb = 57 Songs
•    512Mb = 115 Songs
•    1Gb = 230 Songs
•    2Gb = 460 Songs
•    4Gb = 921 Songs
•    8Gb = 1843 Songs
•    16Gb = 3686 Songs
Our most lightweight and convenient style is the Card Style USB consisting of the Credit Card, Slim Credit Card, Alloy Credit Card and Mini Slim Credit card. The Credit Card Style Series are a size-conscious model, ranging from pocket-sized to wallet-sized, allowing your music to be with you on-hand wherever you go. With modern zip-up card wallets holding up to 10 cards, this allows for a staggering collection of up to 36,860 songs (Based on the previously mentioned average). The Slim Card is a particularly popular choice, due mostly because of its size and the fact that full-colour printing is included as standard.
The popularity of DJs using USBs as an alternative to CDs and Vinyl has become widespread enough that the latest decks such as the Pioneer CDJ2000 CD Deck supports USB sticks and recognize .MP3 files, even recognizing the beats-per-second and waveforms, giving ultimate mixing freedom with the use of .MP3 files. Even if your Logo Printed Memory Sticks aren't for regular use for actual DJing, invaluable collections can never have too many backups, ensuring not only your audiences but your own favourites archived safely.