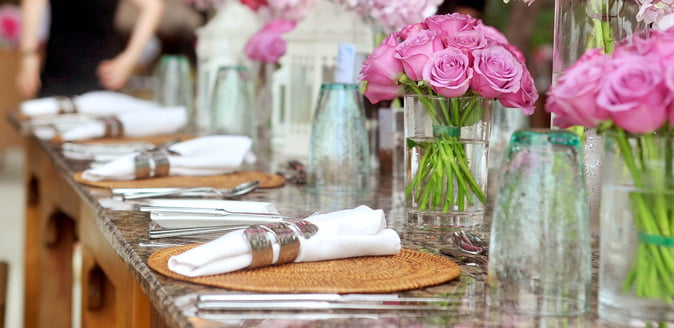 Are you one of those happy couples planning to tie the knot this year? Just when you think you have everything sorted? Having booked your venue, bought your dress, and found the perfect Photographer, you are all set for your big day…but wait! What about wedding favours? It is often the little things that get overlooked.
When it comes to wedding favours, USB drives are gaining popularity along with small personal gifts/keepsakes! Now, I know we all love those little Thank You gifts from, the couple at their wedding, from sugar-covered almonds to small heart-shaped chocolates, sometimes even a little something homemade, but these have all been done before! So why not make a memorable impression?
Being able to fully customise your USB and Gift Box with either something that suits your wedding theme or even the Bride and Grooms name and date with a little "Thank You" somewhere, this will make these unique to you and your memories/wedding.
How many weddings have you been to where the wedding favour is just a little gimmick? Something that will either be eaten and forgotten, or something that will sit on your shelf collecting dust, never wanting to throw it away but knowing that you will never use it. With a USB drive, you definitely won't be wasting your money! Many of your guests will find a use for this from storing the memorable photos of your wedding or for everyday use.
It is always great to provide something that your guests will use and we are sure that your guests will love Custom USB Drives. It will certainly create a topic of conversation for years to come!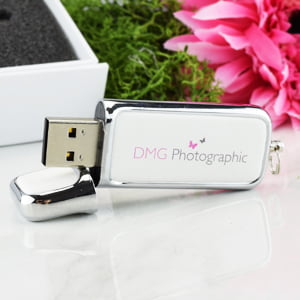 Hermes USB Stick
The Hermes USB drive is a clear front runner. Its faux leather body and metal surround personify style and elegance. Available from 128mb to 64Gb, this drive can hold as many photos as you can take of your special day or event.  Choose from a white or black drive and have it printed or embossed (MOQs apply) with your logo or text. Pair this drive with a large white photo prints box to create a stunning memento.
Wooden Block USB Drive
The smooth finish and rustic charm of the Wooden Block USB Stick makes it a firm favourite with photographers. This drive is perfect if you are looking for a more understated stick to hold your precious memories. The large surface area can be printed or laser engraved and is available in a range of memory sizes, starting from 128Mb.  The large Wooden Photo prints gift box is the perfect pairing for this simple yet charming drive.
Crystal USB Flash Drive
If you want something extra special then the Crystal USB sits at the high end of our USB selection. This unique drive can be 3D laser engraved internally at over 50 pieces, or surface engraved for lower amounts. With a choice of coloured lids it's easy to find the right one to suit the style of your special occasion. Create a timeless keepsake by matching it with one of our Elegant Gift boxes, which can also be engraved with your logo or artwork.
A customised USB drive and Gift box is also something that will surprise your guests. It can be hard to make your wedding stand out from the rest. A great wedding favour will definitely help with this! We think the best use for your USB drive wedding favours would be to load these up with your wedding playlist, a small thank you video and maybe even some images of the planning process. From the moment you said "yes", to the stag night and Hen do, to the final touches. These are sure to bring back fond memories and also allow your guests to feel all the euphoria with you.
The memory size of the USB Drive is one of the major factors when determining the price. We have a range of sizes all the way from 128Mb – 64Gb, depending on what you will be placing on the drives, we will always have the capacity for you. With a handful of drives available at only 10 units, we are able to cater to all wedding budgets and sizes.
Here at USB Makers, we believe that wedding favours should be fun, different and memorable. That is why we think that the perfect wedding favour would be a Personalised USB and Gift Box. If you would like to contact a member of our sales team, we will be more than happy to be a part of your big day.

Richard is the founder of USB Makers and oversees all business activities including marketing, customer service, and business strategies.