According to statistics from Universities UK, during 2017-18 there were 2.34 million students studying in the UK at higher education institutions.
If you think about these figures in terms of promotional reach, university students and faculty members offer massive potential for brand exposure, with branded products one of the best ways to expose a university to potential new students and their families.
Many universities are already branding basic stationery such as pencils, pens, notebooks and folders, but in this blog, we've put together some of the most creative promotional items that universities could utilise to get people talking about their brand.

The USB Wristband memory stick is an ever popular choice with schools, colleges and universities throughout the year.
Not only does the item come in a range of different colours to suit your institutions colour schemes, it's also a stylish and practical to wear around the wrist throughout the day due to its convenience, moisture and shockproof properties.
#2: Carabiner Highlighters
Carabiner highlighters have been growing in popularity in recent years due to their convenient carabiner cap that can be attached to backpacks, pencil cases and much more.
This item is perfect for students of all ages; particularly handy during periods of notetaking and revision.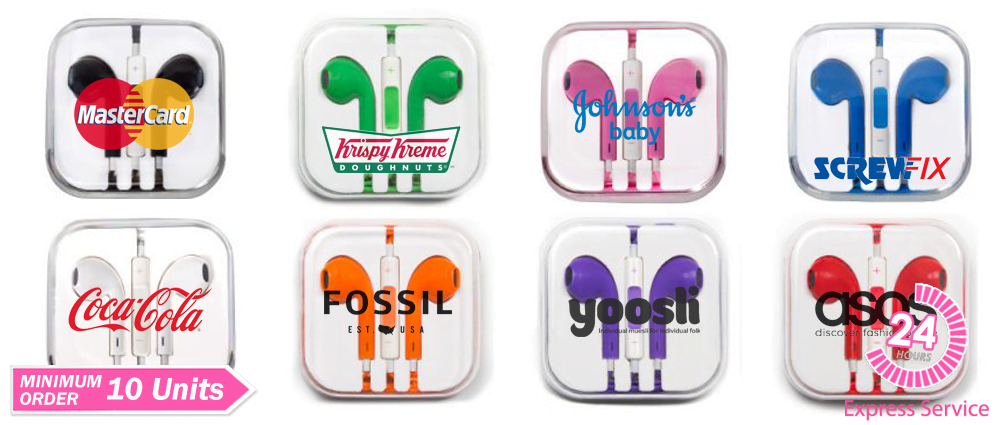 In the modern world, we're almost always on the go and students are certainly no different. Whether watching Netflix on the bus, enjoying music during downtime or listening to lectures in the library, a pair of ear buds are an essential piece of kit for any student.
Our new range of earbuds comes in a handy branded case, which is perfect for giving out to your students and is available in a wide array of colours.
#4: Drawstring Backpacks
The drawstring backpack is something of a hot item in the promotional products world at the moment, and with limitless potential to be seen by untold numbers of people, it's easy to see why.
By equipping your students with a stylish and practical option to carry their items around campus and beyond, your logo has the potential to reach people far and wide.
#5: Logo Hand Sanitiser
Universities can be some of the worst places to be when it comes to catching bugs and illnesses – particularly during a student's first few weeks at uni.
Personalised hand sanitisers are becoming increasingly popular, and can come in a handy spray bottle with pen lid clips, or feature a customised sleeve or sticker adorned with your logo, to show everyone how seriously you take health and wellbeing of your students.
#6: Planners
The first few weeks of university are always a hectic time, with meetings, lectures and parties. So, why not, instead of handing your students blank notepads and stationery, print your logo onto a customised planner, which your students can use to organise their days? This option could also be a good exposure technique, particularly if students are using it to organise their personal lives too.

We're more connected than ever before, which is why when we run out of battery on our smartphones, tablet or other electronic devices, it can cause us a real headache.
Handing out a branded power bank to your students is a great way to keep them in touch with everything that's going on at uni or in their personal life.
Our power banks come in a huge selection of designs, shapes and colours, so you're sure to be able to find a solution that fits perfectly with your institution's brand and ethos.
Protect the privacy of your students with our range of logo printed webcam covers. During a time when online security is almost daily news, these devices remove the threat of potential webcam hackers by blocking the camera.
These devices are compatible with most laptops, tablets, and some larger smartphones to provide peace of mind to students, parents and faculty.
In Summary
Promotional items are absolutely ideal for attracting new students to your educational institution, or even to give away at the start of term. Everyone loves a free gift, particularly if it serves a purpose and one can get some good use out of it.
University promotional giveaways are perfect for getting your message across, particularly since students are so open-minded and willing to hear what you have to say during this exciting period of their lives.
Having said that, young people form opinions and conclusions quickly, so it's imperative that you take steps to make a fantastic first impression.
If you have any questions about anything we've covered in this blog, or you're interested in any of our products, then why not get in touch today?