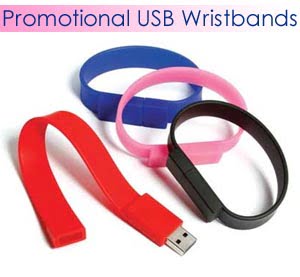 Looking for an attractive, colourful, 'easy to use,' practical and travel-light product that advertises your company? Would you like the opportunity to have your logo printed onto your promotional item in your very own Pantone colours? How posh! A bit of text here, there and everywhere? Well some of us do! USB Makers Intl introduces to you our USB Silicone Wristband Flash Drives!
What are USB Wristband Flash Drives? They are a flash chip in a wristband duh! No, they are so much more than that! They are Premium A Grade Flash Chips that are compressed within a drape (ok a band – 'drape' just sounded more invigorating) of silicone!
They are a 'shock proof' accessory that can easily be worn by all ages (even you Super Nans out there!) USB Wristband Flash Drives are an evolving fashion item which is popular in a majority of schools across the UK! The USB Wristband also acts as a 'nifty' give away at upcoming corporate events or conferences – your customers will be sure to remember you with your logo worn around their wrist!
The standard colours that are available are…red and yellow and pink and green…purple and orange and blue…and, of course, black and white but that is not in the song! Or do you want to step up your advertising strategy and Pantone match your printed USB Wristbands for just a small additional charge?! International brand awareness! Now that is what you want! Move over Alan Sugar!
The minimum order quantity for USB Silicone Wristband Flash Drives is the same as our Twister, Lighter Style, Classic Aluminium, Credit Card Styles (the list is endless!) …it is of course 50 units – you are good at this! Data upload is again available for this style USB Drive and if you would like to impress your targeted customers even more then we do offer the options to lock, unlock or auto-run your preloaded data – what a service eh?!
Your company logo is the key item for your Marketing campaign and this is what we need to begin the ball rolling for your order! USB Makers offers a 1 – 4 colour spot print on one side of the Silicone Wristband Flash Drive. What about two sides I hear you cry out? Well, yes we can print your logo or your chosen text inside the USB Wristband as well for a small tiny 'insy weensy' additional cost. Or have it on the clasp if you like! Jeez…the opportunities with us really are endless!