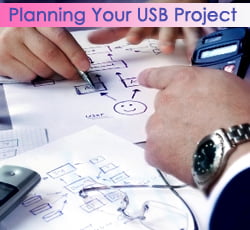 When thinking about ordering Custom USB Memory Sticks, it is important to take the time to choose exactly the product you want, in enough time to ensure the product reaches you for when it's required. Factors such as style, printing options, accessories, services and lead times are all things that must be taken into consideration when creating your USB project. Our experienced team are here to help you through this process.
The Artwork
USB Makers aims to produce a product that meets the aims of your project as best we can. By sending us your logo we can produce a visual mock-up alongside a quote request, free of charge, with no obligation to proceed with the order. We feel that providing a visual helps bring your project to life, and enables you to make a more informed decision and in turn, gives you confidence in the product. Things to consider should be the number of colours in your logo and the format of image you submit for print. (See USB Artwork Guidelines for more details).
Accessories
USB Makers offers a range of additional accessories, including keyrings, presentation boxes and lanyards, with some lanyards and presentation boxes also eligible for printing. These accessories are small in cost and effectively add a personal touch to your Custom USB Memory Sticks, making them perfect for clients. Keyring Chains and Lanyards also add practicality to your USB Project, allowing them to be attached to keys or worn around the neck for practical use and to re-enforce your brand whenever they're seen.
Services
USB Makers also offers various services to better customize your USB Project. These services include Data Transfer, Data Locking, Password Protection and Volume Labelling. If you're using your Custom USB Memory Sticks as a promotional tool, adding data is the perfect way to effectively inform your potential customers about your business. Locking and password protection also means you have a greater control over who views your data. (For more information, please refer to our USB Accessories section) Select styles may also be eligible for laser engraving in replacement of traditional printing.
Production & Delivery
Our regular service ranges from 7-10 working days from final artwork approval, it is, therefore, important to plan well in advance of deadlines and events to ensure your project is well thought out and reaches you on time. More accurate lead times will be able to be provided by your contact at USB Makers upon closer revision of the requirements of your order. USB Makers are here to help you through the ordering process so that you can say with pride that it is your brand on your very own Custom USB Memory Sticks.