On The Go USB Sticks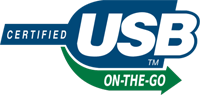 Our new range of OTG (On The Go) drives are perfect for use when active and without access to a computer terminal. They also eliminate the need for a connecting cable, meaning you can use these drives directly with you phone or tablet.
These innovative drives contain either an iPhone lightning cable or a Type C connector, and with some styles there is also a micro USB contained in the USB. Meaning you can use the one device across multiple devices, regardless of the connector it is compatible with.
All of these metal drives can be printed or laser engraved with your logo or artwork to create a unique but incredibly useful promotional product. Available from just 50 pieces and from 16Gb and above, there is plenty of choice to find the right drive to reflect your branding.

For More Information Click a Iphone Lightning USB Style Below