On The Go Iphone Lightning USB Sticks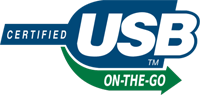 Designed specifically for use when out and about or 'on the go', this new range of USB flash drives contain both an iphone and standard USB and with some styles the USB can be pushed back to reveal a micro connector as well! Giving you easy access to whichever type you need in one handy device.
Removing the new for an extra cable, these USBs have been created to use directly with your iphone or tablet. Allowing you to easily store and transfer data without the need for internet access or cumbersome computers. These small devices fit perfectly in your pocket or bag so you have them to hand whenever you need them.
Brand one of these ground-breaking drives with your logo or artwork in 1-4 spot colours or have it laser engraved if you prefer. Our 7 new styles include the Odin with its large surface area to really highlight your branding, or the Templar with it's 3 separate connectors with removable caps.

For More Information Click a Iphone Lightning USB Style Below