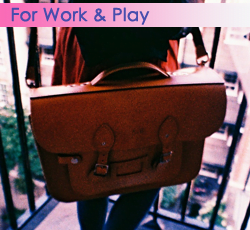 Everybody likes having a promotional product that looks professional but remains affordable, especially if you're in a corporate or design environment, it's important to let your customers know that your company is conscious of detail. Leather USB Memory Sticks are the perfect promotional item to give this impression. The Leather Series from USB Makers are strong and sturdy, whilst having a luscious, high-end feel, perfect for making an impression at your next big event, not just on your customers, but your competition as well. The Leather Styles are well known for their ability to impress. The small pieces of metal detailing adds a delicate finesse to the drive, the leather allows for evoking a sense either luxury or hardness.
The Leather Series currently consists of four different styles; The Helios; The Hermes; The Napa, and Snaffle all of which utilize a similar motif of a combination of metal and leather. Each leather series also has a unique 'cap' feature. The Helios and Snaffle have a 'popper' like button which can be undone to reveal the memory inside. The Hermes is a more traditional style with a stylish metal surround and removable cap.  The Nappa's 'cap' slides through a metal part rather like a slip belt. To see more details and pictures of the leather styles, please refer to the Leather Series page or the individual style pages for more information.
Leather USB Memory Sticks from USB Makers can be branded in 1-2 colours both sides, with an optional 500Mb of pre-uploaded data as standard. A popular alternative to printing on the Leather styles is the option to substitute printing for one-sided laser engraving, which incurs no extra charge than the 1-2 colour print option. Pre-loading data is also a popular option since up to 500Mb is free of charge, many opt to take advantage of this by pre-loading their USBs with an internet shortcut at the least, or sample materials and information on their company. Perhaps the best thing about promotional USBs is that they are not limited to being branded on the outside, but branding on the inside allows for a new dimension of promotion.
To accentuate your product it may be worth considering some of the accessories that USB Makers offer, including keyrings and presentation boxes, the latter of which is particularly popular amongst photography clients, of which, printing can also be arranged for the outside of the presentation box. Keyrings also have added the advantage of allowing your recipients to carry their promotional USB wherever they go, allowing for maximised brand exposure.
Whilst Corporate and Design environments may seem rather varying ends of the 'job spectrum', both wish to have a similar 'air' about their companies, the impression of being high-end and professional, especially in the aesthetic sense. It is perhaps this that makes Leather USB Memory Sticks as popular as they are with corporate companies, designers, and photographers.