The Dixie USB Drive is a phenomenal bestselling USB style as well as being one of the least expensive memory sticks that we have to offer. The Dixie USB Drive is truly extraordinary due to its ability to have full-color printing on one or both sides! There are only three drives that are able to have this additional printing option and the Dixie USB Flash Drive is one of them! Full printing is a little extra charge per unit but companies who have effective shadows and shading in their company logo would definitely benefit from this type of printing. Full-color printing would present your business's logo to its full potential. Nevertheless, we can also print up to four spot (solid) Pantone colors onto the Dixie USB Drive on each side.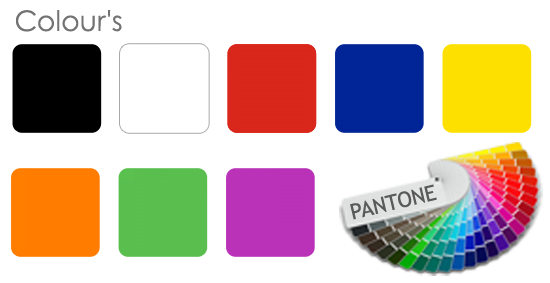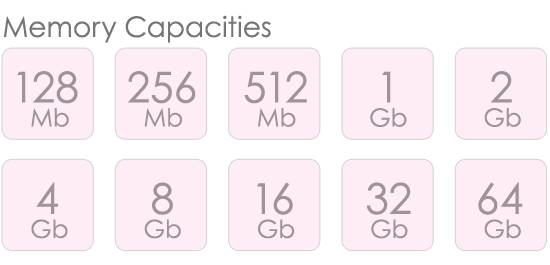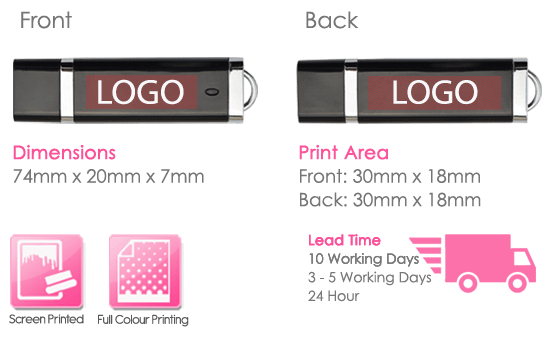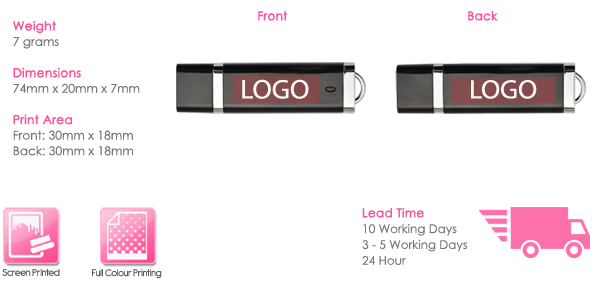 Minimum Order Quantity: 10
Colours: Black, White, Blue, Green, Red, Yellow, Orange, Silver or Pantone Matched
Memory Size: 128Mb, 256Mb, 512Mb, 1Gb, 2Gb, 4Gb, 8Gb, 16Gb, 32Gb and 64Gb
Branding: Screen Printed or Full Colour
Dimensions L x H x W: 74 x 20 x 7mm
Print Area L x H : 30mm x 18mm
Weight: 7 Grams
Hi-Speed USB 2.0 Certified (USB 3.0 available upon request)
Compatible: 98 / SE / ME / 2000 / XP / 7 / 8 / 10, Linux, Mac
RoHS / WEEE Compliant
Data Retention: 10 years
LED indicates power & read/write
No external power required, plug & play
Lifetime Warranty
Compliment your USB Stick with one of our Gift Boxes…
click here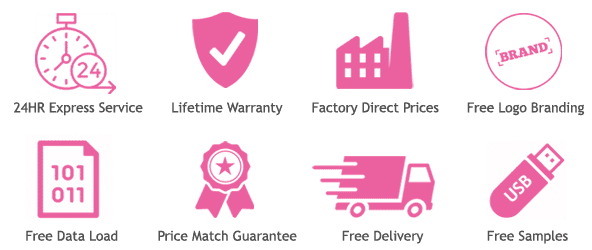 We also give you the opportunity to Pantone match the Dixie USB Drive to your company's own corporate colors. Pantone matching is slightly more expensive but it would definitely compliment your Dixie USB Drive order to its full purpose. Nevertheless, a large eyelet is positioned at the end of the body of the Dixie USB Drive which makes it suitable to attach a key ring chain or even a lanyard! The minimum order quantity for the Dixie USB Drive is fifty units and data upload is available free of charge up to 400Mb. Companies also have the opportunity to lock, unlock or to have an auto-run feature on their Dixie USB Drive order. Customers also have numerous capacities to choose from varying from 128Mb up to 64Gb.