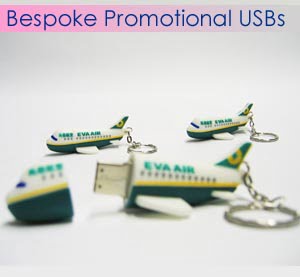 Let me guess…you are a difficult person to please? Do you prefer strawberry jam instead of raspberry jam?! Chalk instead of cheese? (Mmm no I would definitely pick cheese!) Not seen a personalised USB Flash Drive that stands out from the crowd? Well, stop! Do not threat!
We can make your company's dreams come true! This is not only through our competitive pricing but through our Custom USB flash drives. Custom?! Yes, Custom! We offer a package that allows you to be the creator of the USB Flash Drive. You are in the driving seat – belt up! Our Custom USB Drives originate from PVC Rubber and can be moulded into nearly any object or shape that you desire – within reason! Our past orders have enabled us to construct promotionally branded PVC rubber moulded airplanes, hard disks, and vans! Yes, we are the masters! Step up!
The unique selling point to the bespoke flash drive is that it is completely customised by you and to your needs! Have your competitors taken this stride to success? No? Well, be the first to spread brand awareness to your customers (and by this, I do not mean by handing out flyers!) Shape, colours, logo, text…the decisions are yours! You are the boss (not Hugo Boss!) Share your ideas with us and we will do our best to meet your high standards and provide you with a top-quality promotional product! "That's what we do!" (Quoted by Sales and Marketing Manager of USB Makers)
The Bespoke USB flash drives are available in the following capacities; 128Mb – 64Gb! Wow, more choice than you would get in Tesco – well, maybe a bit less! The minimum order quantity for our bespoke flash drives is in fact 300 units and this is due to the new mold we would create for you, but surely you would require a few hundred units for your targeted customers? We want to help you promote your business internationally! I am sure your Bespoke USB Flash Drives would fly out of their boxes even through the use of your staff members! In this case, why not order a few more…
We can constitute up to 4 colours for your bespoke PVC rubber USB Flash Drives…sounds perfect, does it not?! Do not be a slow coach, pick up the phone now and speak to our knowledgeable Sales Team on how we can accomplish the manufacturing of your very own Bespoke USB Flash Drives! Go on, get promoting!