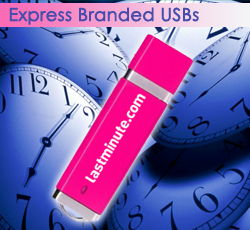 USB Maker's Branded USB Memory Sticks Express Service is the perfect solution for those who require in a hurry. Allowing for the ever popular Twister, Dixie, Wooden Twister and Pen Style USB drives to be produced and delivered in either 3-5 days or even 24 hours if needed! As opposed to the regular service which takes around 10 working days. It is important to note however that this service's printing options, shell choices and capacitates vary from the options available on our regular service.
Colours
Unlike the regular service, the selection of standard shell colours available is larger, allowing for a choice of 24 colours to choose from. The express service, however, does not allow for custom Pantone-Matched shell colours.
Printing
Printing on the Branded USB Memory Sticks Express Service is not restricted in any way, 1 – 4 spot colours, Full Colour or Laser Engraving both sides of the USB Drive.
Minimum Order Quantities
The Minimum order quantity for Memory Sticks is lower than the regular service, allowing for a minimum order of 10 units to a maximum order of 3,000 units.
Capacities
Capacitates start from 128Mb up to 32Gb, available on the Express Service.
Delivery Times
USBs can be delivered express to 20 different countries in 72 hours* and can even be sent to your client plain label.
Due to Chinese New Year, regular suppliers of USB Shells and Flash Memory are on a break between Friday 24th January and Monday 10th January (A period not incomparable to the Christmas & New Year Break), meaning any orders placed on our regular service between Monday 13th January and Thursday 23rd January will not reach customers until after Monday 10th February. Currently, our Branded USB Memory Sticks Express Service is the best alternative for any of those in need of USBs between now and the 10th of February. Please note that prices vary in comparison to the regular service. For more information simply request an Express Quote from our easy online form or contact USB Makers for more information.