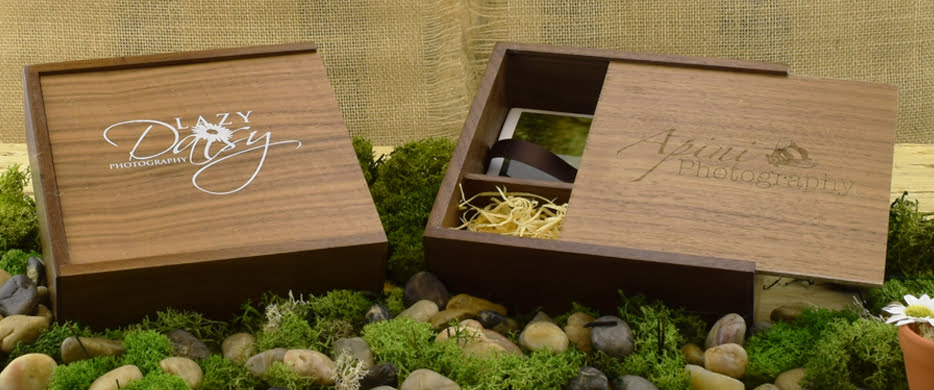 Dark Wooden Slide USB & Photo Prints Gift Box
The Dark Wooden Photo Print Gift Box is a stunning, high-quality box made from sturdy natural wood, it comes with a sliding lid and a half moon crescent for easy opening. To complete the look, the front of the USB box can be laser engraved or full colour printed with your logo or text to accentuate your company's brand to it fullest potential. The inside of the USB Photo box is partitioned into two compartments: one holds your branded wooden USB drive nestled in wood wool to protect it from damage. While the other can hold up to 150 6" x 4" photographs tied with a stylish and practical brown ribbon: the ribbon is secured to the base of the box and offset so that the photographs can be easily lifted out.
Complete the look with one of our Dark Wooden USB Drives to match perfectly for a sophisticated gift set for your clients. Whether used to hold photographs from a special event, wedding, newborn photo shoot or another memorable event, the USB Dark Wooden Photo box is the perfect choice to showcase your treasured memories. The overall effect is innovative and unique, taking standard USB packaging to a whole new level of quality and elegance.
Product Specification
Minimum Order Quantity: 5
Photo Print Area: Holds upto 150 6" x 4" Photos
Material: Dark Wood
Branding: Spot Colour, Full Colour Printing or Laser Engraved
Dimensions L x H x W: 171mm x 175mm x 55mm
Weight: 339 Grams