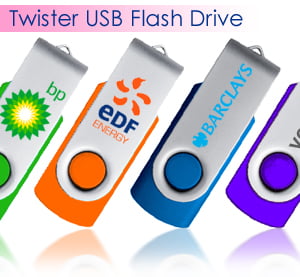 Do you have an upcoming conference or event where you would like to promote the brand of your company? Or would you like a promotional gift to pass onto members of staff for their hard work and efforts? I think so! Well where do you begin I hear you say? We offer a vast range of USB styles that are tailored to suit companies in all industries…the cheapest and most popular style of Personalised USB Drive being the Twister USB Style!
Now, why is this particular USB drive such good value for money?! This drive in particular rapidly sells in it's billions to companies who require them in the UK as well as internationally. The Twister shell is available in up to eight standard colours as well as having the option to Pantone match!
Memory sizes range from a small 64Mb up to a gigantic 64Gb which will surely be able to hold the largest of files for those computer geeks out there!
The minimum order quantity for this shell as well as all of the styles that are shown on our website begin at 25 units. A one-two colour logo/text print is available on one or both sides of the drive for free of charge however; we can print up to four spot colours per side! Although some companies charge for data upload – we don't, up to 300Mb anyway which is a reasonable amount for the average sales brochure, PowerPoint presentation or a simple PDF! USB Makers UK also offer the opportunity to lock your preloaded data, keep it unlocked or even install an auto-run for your file – very 'sheek' and professional if I say so myself!
The one advantage that the Twister Shell has over it's family of USB Drives is that it is the speediest USB Drive of them all – and by this, I do not mean by running! The USB Twister Flash Drive can also be purchased in our Express Service which is a 72 hour manufacturing service where we can get them to those companies who have left their project to the very last minute! The Twister is available in only our standard shell colours and in memory sizes from 128 Mb and upwards. Due to the exceedingly tight deadline that this service provides for customers, we are unable to pre-load data, however; we can print up to 3 spot colours per side.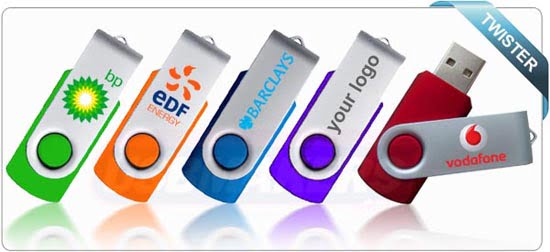 Dawn is the Production Manager at USB Makers and one of the main authors of the USB Makers blog.