Branded USB Sticks for Schools, Colleges, and Universities
At USB Makers we offer the complete range of USB flash drives for Schools, Colleges, Universities, Government departments, and Councils. Our personalised USB sticks can be personalised by printing your logo or text in colour and your data uploaded completely free of charge.
The number one reason for our success rate with Schools, Colleges and University projects is our attention to quality. We understand the integrity of your establishment must be upheld, even on pocket-sized branded USB flash drives, so we guarantee to offer the most competitive prices and know that we also offer the very best value with premium-grade, proven and tested USB Flash memory sticks – both inside and out.
We offer instant credit (no credit account sign up required) on all USB Flash Drive Products supplied to Schools, Colleges, Universities, Government departments and Councils. A personalised branded USB memory stick or flash drive is a great promotional tool for Schools, Colleges and Universities as gifts for graduates and former students or by Government departments or Councils to promote new and existing services. The traditional USB Flash memory drive design gives sufficient space for your brand (printing up to 4 Pantone colours) to make a marketing impact, and our range of personalised USB memory sticks fit easily in your pocket with key rings and/or with a branded lanyard. The USB flash drives are available in various styles, shapes and colours, and there are over 60 different styles to choose from. If you do not see the memory stick you require then USB Makers can search for possible "Bespoke" options to help transform your dream into reality while still within your department budget.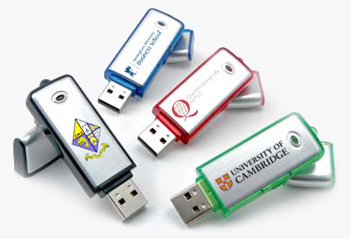 Whether the USB flash memory drive is in a plastic, leather, metal or rubberized casing wristband, or with a capacity of 128Mb, 256Mb, 256Mb, 512Mb, 1Gb, 2Gb, 4Gb, 8Gb, 16Gb, 32Gb and 64Gb NAND flash memory chip inside the drive, USB Makers performs rigorous, industry standard-setting tests on all its logo USB products. You can store important documents, pictures, music and all media easily on our personalised USB pen drives, and up to 500mb of data can pre-loaded data for free, if the data is larger than that then there is a small fee per drive.
There are many variables to consider when seeking the appropriate promotional USB company to supply your School, College, University, Government department or Council; and there is only one company that can offer durable, premium grade quality branded USB products quickly at very competitive prices. Many people now choose USB Makers.com… Do You?

For More Information… Click a USB Style Below