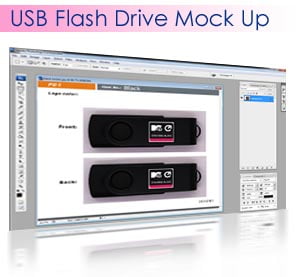 Printed USB sticks are a spectacular way to enhance your company's appearance and reputation towards its targeted customers! Creating brand awareness, customer loyalty and stepping up your game against your competitors is all gravy – but how do you know that your end product is going to turn out the way that you have designed your merchandise in your mind's eye? Well guys, gals, kiddies, dogs, everyone…USB Makers offers a free visual mockup service where you can perceive a virtual representation of how your promotional product will look with no obligation to go ahead – impressive to the max! I think so!
Do you want the power to pitch a sensational idea to your boss with the support and back up that you require in order to gain his (or hers – no sexism here!) approval? Well, you can, with USB Makers UK! Just follow these simple steps…
Step 1 – Visit our Branded USB Quick Quote page and it will not take two minutes to fill out the form! Once the form is all 'dandy' then an option is available for you to upload your company logo to your own quote request! Yes, it is this easy and the catch? There is no catch! This is all free!
Step 2 – A member of our experienced (and good looking – well we think so!) Sales Team will receive your quote request and artwork which will then be forwarded onto our creative and innovational artwork department. Your visual mockup will be designed in minutes! Quicker than cooking a good old roast on a Sunday – now we are talking!
Step 3 – You will receive an email back with two attachments…one being your quotation on your own specific requirements and the visual mockup – Reem…as Joey Essex would say!
Step 4 – Your choice…if you are over the moon with the way that your Promotional Flash Drive has been visualised then please let us know – we welcome all positive comments and feedback! Also, please let us know if you would like any tweaks made to your artwork and we will be more than happy to re-mock your visual for you! Wow, what a company eh?! The hard work is all done for you J just call us your Genie in a Lamp…your wish is our command!
Step 5 – Your pitch! You now have the power to approach your boss with your hypothesis…Good Luck and stay in touch because we thrive to hear from you as we want you to join our portfolio of loyal existing customers! All we need is your confirmation of the order, your approval of the artwork and then we are good to go! USB Makers UK…what an easy peasy and stress-free service!