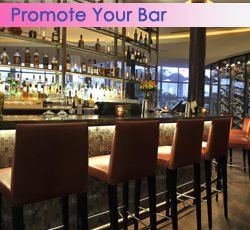 Promotional USB Flash Drives are the perfect tool for promotion, shown to be effective in hundreds of different fields in spreading awareness of companies and their brands. A great way to promote your new or existing Bar, Club, Pub or Restaurant can be to use a USB Flash Drive. USBs have shown to be effective, universally computer-accessible tools that can be packed with promotional media, making them cost-effective to your promotional campaign, they are pocket-sized and portable making them easy to access, and great gifts for prospective clients, enforced by being printed with your logo. USB Makers offers several styles that would also complement a bar, club or pub perfectly.
The Benefits of using a USB to Promote your Establishment
USBs are great promotional tools in every sense. Widespread accessibility means that any computer with a USB will be able to recognize your promotional USB, enabling you to reach a maximum audience. But how can this help with promotion? USB Makers offers a 1-2 spot colour print as standard with most of its styles, meaning you can brand your USB with your logo, ensuring the recipient of your USB is constantly exposed to your logo every time they use it. However the USBs strength isn't entirely reliant on its outer print, it is important, however, perhaps the best advantage of using USBs to promote your establishment is the data that can be stored inside. You can upload videos, presentations, promotional information, images, music, and more. The best part is that USB Makers offers 400Mb of data pre-uploaded to your drive as standard with most styles, meaning your drives will arrive ready to be distributed.
Great Styles for Pubs
For that classic pub feel, USB Makers offers a range of wooden USB sticks, which can be printed or alternatively engraved. Such styles as the Oak Barrel have been particularly popular in promoting pubs and well-known beer and cider brands. Similarly, the bottle style has shown success in promoting wine brands and vineyards. Alternatively, the Square Card could be styled to look like a beer mat.
Great Styles for Bars and Clubs
If you own a bar or club you might be looking for something sleek and modern. For this the metallic styles are perfect. In particular, the Corporate Twister is a popular choice, being smooth and contemporary, it has a cool 'click into place' feature when twisted. The corporate twister is perfect for giving an 'upmarket' feel.
USB Makers' styles come in a range of capacities, from 64Mb to 16Gb, meaning there's a capacity for whatever situation you may need Promotional USB Flash Drives. We also offer a range of accessories to accentuate your project, including lanyards and presentation boxes. If none of the above styles float your boat, you can always inquire about our Custom PVC option, allowing you to create your very own USB Shell from scratch.

Dawn is the Production Manager at USB Makers and one of the main authors of the USB Makers blog.