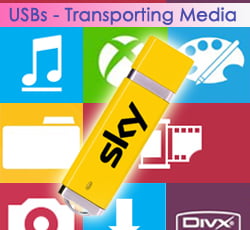 Steadily, Personalised USB Keys are becoming a must-have as USB media is increasingly being incorporated into more and more new technologies, enabling data storage and transportation from computers to different platforms, new and old. With devices such as Televisions and Games Consoles being designed to recognize more and more computer-based formats such as video, music and image files, having a device to transport these files has become more important than ever.
Because these platforms now recognize computer formats such as .MP4, .MP3 and .JPG, viewing your favourite files on your home television at your own leisure has never been easier, in some cases being as simple as dragging and dropping files onto a USB and plugging it into your television. USBs have now become the best way to transport your most treasured media in a convenient and space-efficient manner to be viewed on other modern Televisions, with a 16Gb being able to store around 10 full-length files (Based on an average of 1.5Gb per file). Personalised USB Keys have now become a must-have for anyone who enjoys films, photos or music.
Video Game Consoles have now also incorporated new features in an effort to be more 'format universal', including the ability to also recognize media such as music, pictures, and videos to be viewed on the console via a USB Key, much like Televisions have done. So even if you don't have a television that supports video playback, if you have a games console (Such as the PlayStation 3 & 4 and Xbox 360 & One) you can enjoy the same playback features modern television holders have. USBs can now also be incorporated to store save data, updates and even small games.
The expansion of computer media into home entertainment has led to need for a 'universal' recognition of video, music, and image data files, requiring home media products to open their doors to a more varied array of media storage facilities to allow for more cross-media playback. In turn, the use of Personalised USB Keys has changed dramatically over the last few years, now taking the place of the topmost convenient choice for storing and transporting home entertainment files to your new platforms.