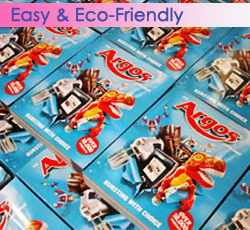 When it comes to companies who have large varieties of product, it's important to let your customer know that they have freedom when browsing and purchasing, however this is only possible when they have a platform on which they can browse your products easily and at their leisure, traditionally, this is through catalogues, however with variety becoming key, and catalogues rivalling the page counts of most epic fantasy novels, it's easy to see why companies are now opting to distribute their catalogues on Personalised USB Drives. By choosing to have your catalogue on Personalised USBs you are opening your marketing options to various media not acceptable by traditional distribution.
With drives available starting from as low as 64Mb and ranging up to 16Gb the limit to how large your catalogue could be is only limited to the capacity of your drive. Catalogues can even be split into multiple files to break the content up into more easily digestible portions, something that wouldn't work so practically with a physical catalogue.
Another added advantage is that the wonders of technology allow your customer to interact with the products, with clickable hyperlinks now easily added to .pdf files, your catalogue can lead your customer to a location online to order the product, or even updated information on the product. Having your catalogue on a USB also means that additional content such as videos demonstrating the product, for example, can also be added, to give the customer a better feel for the product, giving added confidence to their decision before proceeding with a purchase.
Distributing your catalogue via a USB is tree-friendly and being more space-efficient is easier to distribute to customers. In turn, this also means that it is easier for the customer to carry around and access at their leisure. To give you a better idea a 1Gb USB can hold over 10,700 pages in a single .pdf document on an item that can be held in the palm of your hand, that's the entire Harry Potter series two and a half times over. This means our top capacity for Personalised USB Drives (16Gb) can hold around 171,200 pages of content, to draw the same comparison that's the entire Harry Potter series over 40 times over.
Personalised USB Drives from USB Makers come with a 1-2 colour print and 500Mb of pre-loaded data included as standard. Although if your data is more than this then this pre-loaded data amount can be increased for a small fee. Likewise, for a small fee, the number of colours in the logo printed on your USB can be increased as well or can be printed with a full-colour print. The most cost-effective and popular styles USB Makers offer are the Twister, Dixie and Titan styles, all three of which fall into our cheapest price category. USB Makers also offer a range of USB Accessories including Keyring Chains, allowing your catalogue readers to be able to carry their catalogue around with the easily and conveniently, ensuring maximum exposure of your brand and easy access for your customers whenever they need it.