On The Go Type-C USB Sticks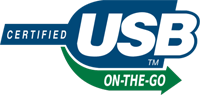 Containing both a standard USB and a Type-C connector, our new range of double-ended flash drives fit newer MacBooks, Android phones and tablets without the need of an adaptor to access the data saved our your USB. These small but incredibly useful cross-platform drives embody ease of use and versatility. 
Perfect for 'on the go', these stylish designs allow complete flexibility as they easily connect, store or transfer data between different devices whether they have a standard USB or Type-C ports. All the flash drives in this new range fit perfectly in your pocket or bag so you will never be without a memory stick when you need it the most. 
Have your logo printed or laser engraved on one of these game-changing metal Type-C drives, including the Rhea with its built-in stylus or the Pegasus with its handy clip. With 7 new styles to choose from, we have a flash drive to suit your budget and brand. 

For More Information Click a Type-C USB Style Below