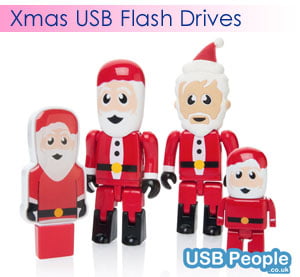 'Jingle bells jingle bells, jingle all the way! Oh what fun it would be, to have your own logo USB hey!' In the Christmas spirit? Hell yes! What better way to celebrate the end of a successful year in your company than to reward your staff members with a niche and extravagant gift with their own company Logo USB?! 'Last Christmas gift might have been good, but USB Makers and USB People UK will make this year's extraordinary! Why not try and create your own branded USB stick to give out to your target market before the Christmas holiday begins?! This would be a great way in keeping you in their mind's eye even whilst they are up to their eyeballs in turkey and bundles of presents! Ba humbug! USB Makers can give you the power to make your competitors green with envy…just like the dumbfounding Grinch himself!
'Ho ho ho' Christmas only sleighs into the picture once every year – so get cracking so that you do not miss out on your very own promotional merchandise! Have you seen our USB People Santa Claus Flash Drives?! Perfectly relevant for this season's extravaganza if I say so myself! Your printed USB drives will help you to spread international brand awareness even throughout this festive season and be the most cherished give away handed to your potential customers. Our USB People Santa's begin at a memory size of 512Mb and swoop up to a generous 8Gb (your customers must be on Santa's good list to receive this size capacity, but why not treat them anyway?!) Your USB can be printed up to four spot Pantone colours! Impressive? We know! We can also achieve data upload up to 500Mb free of charge as well as having the tremendous ability to unlock, lock or auto-run your data for you…we really is Santa himself in disguise! Ho ho ho!
If USB People Flash Drives are not your thing…then maybe you are more of a Blitzen kind of guy to Rudolph…just a thought! USB Makers UK have over fifty styles of USB flash drives to choose from! The minimum order quantity for all custom printed USBs are fifty small units and we really can go up to a quantity to infinity and beyond, just pick up the phone! Capacities range from a mini 64Mb and soar up to a gigantic 64Gb for you well-behaved guys and gals out there!
Well, you better get a wiggle on because time is beginning to run out when ensuring that you receive your very own logo USB before Christmas begins! Simply just send us your artwork and we can create a free visual mockup to show you how your USB will look. You have the power (ok you are not Zeus!) but it is in your hands to design and share your creative ideas with us to enhance and intensify the appearance and effectiveness of your printed USB! Competitors beware!
So what are you waiting for?! Ready, let's go! Get Christmas cracking!