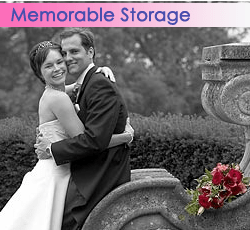 One's wedding is perhaps the most memorable day in a person's life, it makes sense that they should have something memorable to store it on, whilst traditionally this is a wedding album, in the 21st century, USBs are used as a supplement or even substitute for a wedding album, able to store up to 9,830 photos* on a single Logo Printed USB Drive, the sheer capacity compared to size makes it a convenient storage place for your most important moments. Enabling customers to view and share your works on the internet, and social networks, for example, getting your talents out there to the wider world, showing just what you can do.
The benefit however is not just to photography clients, but to photographers themselves, with Logo Printed USB Memory Sticks, you can brand your company logo and contact details onto the drive, as a form of advertisement, sure to be kept for years to come by the recipient, you can ensure maximum brand exposure for years, keeping you in the mind of the recipient, should they ever require your services in the future. We offer a 1-2 spot colour print on most of its styles as standard, this, however, doesn't mean that the print has to be the same on both sides, enabling you to, as mentioned previously have your logo on the front, with contact details on the back, providing they are in the same spot colours.


Having dealt with USBs for Photographers in the past, the staff at USB Makers are experienced in the tastes that are most popular with photography clients. Predominantly the Metallic Series is favoured, being professional and modern, it is widely appreciated by whichever tastes your client may have. Alternatively, wooden styles are popular, given their 'timeless' feel, playing into the occasion perfectly. Also popular is the Slim Credit card, which, unlike other styles, includes full-colour printing as standard, given the large print area, most photographers are given the ability to be more creative with the design of their USB, with most photographers utilizing previous works to serve as an added reminder of their abilities. If you are however on a budget, we offer several styles that are professional but cost-effective, these styles include the Twister, Titan, and Dixie which are our most popular styles and also fall into the cheapest price category. If however none of these styles suits your tastes, there is another option, for orders of 300 units or more, USB Makers' experienced design team can work with you to produce your very own custom PVC USB Shell.
Whatever your tastes, we can help you produce a Logo Printed USB Flash Drive that will benefit your photography business. Many customers also benefit from USB Makers' 500Mb pre-uploaded data option, with which USB Makers can upload your data at source, meaning your USBs come ready to go. Whilst this may not be beneficial for individual end users, given that every customer has different photos and may not even have been photographed yet, some customers place a shortcut to their website, contact details, or even sample portfolios, again contributing to the advertising power of their product.
*Based on an average size of 1.5Mb on a 16Gb USB