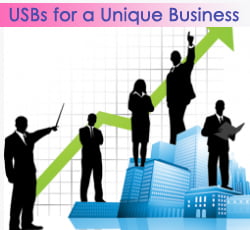 It's vital that you show just how unique a business you have, especially in today's economic climate, exhibitions, trade shows and talks are key, and a great way to promote your business to potential clients is with Logo Printed USB Flash Drives, ensuring your business is the first thing your client sees before using it.
The old methods of just arriving at an exhibition with an arm full of leaflets ready to hand out offering people a discounted product or service may still be relevant, but they might not help you to stay in the back of the mind in the long term. People might not take you up on your service immediately, getting straight on the phone at 9am the day after the show to make an inquiry, but if you can come up with a strategy that keeps you in their memory bank then you're on the right track.
For that reason, you need to give them something to take away that they can use, and that also reminds them about your company and what you have to offer so that when the time does come, you're their first port of call. One example of how you can do this is through a Logo Printed USB Flash Drives, designed in a unique style that has your company name, logo and contact details printed on it. This works so well because people are always using USB sticks whether it's in the home or the workplace and each time they go to plug it in to save a file, they'll see your company name.
USB Makers' vast array of additional extras also allow you to take full advantage of opportunities to make your USB as unique as possible to help it stand to your potential customers, including accessories, varied printing options, and pre-loaded data options to make the most of your USB Project.
Often some more expensive methods such as large banners and displays may make an impact at the time but often leave little lasting impression past the end of the exhibition. When you're trying to stand out from the crowd, you have to make sure that the methods you use are unique, helping you to get any advantage you can over the competition. Mimicking marketing techniques utilized by your rivals doesn't set yourself apart, the answer is a unique product and Logo Printed USB Flash Drives from USB Makers are the answer.