Author: James McDonnell Mitchell on Wednesday, 15 January 2014.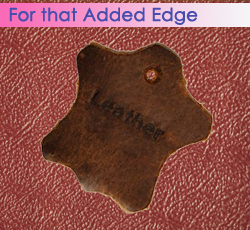 Napa
The Napa's metallic shell brings modernity to your Leather USB, using a belt-like slip on its lid and clip for a convenient but secure lid.
The range of possibility that USB Makers offers allows for ultimate customization of your Leather USB Memory Stick Series from concept to production. So If you want to give that high-class, fashionable edge to your brand then the Leather USB Memory Stick Series is for you.
Laser Engraving
To give that added touch of class to your project, you can also have your Leather USB laser engraved. Laser engraving the Leather Series complements the style greatly, giving it a 'true' branding, making your logo irremovable. Laser Engraving is offered by USB Makers as standard with your order in place of traditional printing.
Accessories
USB Makers offers a range of accessories to accentuate your product including presentation boxes that can also be custom printed to add a personal touch for whoever receives it. USB Makers also offers a range of keyrings and lanyards, meaning you can wear your USB rather than simply carrying it. Wear your USB with pride by opting to take advantage of our many additional keychain or lanyard accessories.

Dawn is the Production Manager at USB Makers and one of the main authors of the USB Makers blog.