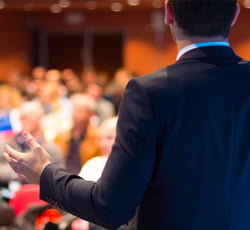 Whenever you hear the word 'presentation' mentioned, many instantly feel dread wash over them; and while a few may thrive under a presentation situation, some of us find them a fear-inducing experience. In fact, it was once found that people fear public speaking more than death! However, giving a presentation, whether it's a webinar, internal meeting, or pitching to a new client can be daunting no matter the medium – or purpose – of the presentation.
To stop the panic rising, we've put together a guide you should keep in mind when preparing your presentation and how you can not only get through it, but ensure that you leave having met your, and your audience, desired outcome.
Set objectives
No presentation will go well unless you have clearly defined your objectives. So, before you begin, ask yourself the following (depending on your reason for presenting this may vary): why are you delivering a presentation? Why should someone attend? What do you want your audience to learn? What action do you want audience members to take?
Without a clear purpose for your presentation, it's likely to fall flat and fail to resonate with your audience. If you want your audience to buy into what you are saying, then you need to ensure that you have the passion and knowledge to engage your audience.
Talk, don't read
It is advised that your presentation takes the 10/20/30 rule. For example, your presentation should be no longer than 10 slides, 20 minutes long and 30-points is the maximum font you should use. The idea is that you talk more and useless text. The slides are there to guide you and should be there to serve what you are saying, rather than dictate the presentation slide-by-slide.
Oh, and whatever you do, don't use all-singing, all-dancing PowerPoint effects; they just detract from your message.
 Gain trust
If you are presenting as part of a sales exercise, then your main goal will be to build trust with a prospective client. Trust is one of the determining factors used when people decide whether to do business with you or not.
To build trust from the get-go, you will need to begin by proving your credibility – both personally and company-wide. You should (or at least pretend to) know everything there is about the product or service you are offering, as well as the industry you are operating in.
You should be equipping yourself with every nugget of information you have to hand, in to ensure that your audience is aware that you are the trusted industry expert. Not only will this ensure that you are educating your audience, but will give you the confidence that should a question be posed to you, you will be able to answer it without hesitation.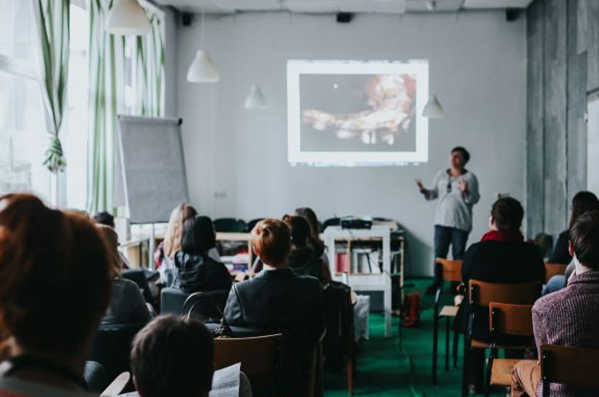 Engage the audience
One of the hardest parts of presenting is having to start – especially if you are nervous. Your immediate statement should be something that draws the audience in. Like Best Man speeches, many presenters try to start off with a joke, but it's best to avoid such a tactic as it can often fall flat with your audience.
Instead, try to tell a story that is not only related to the topic you are discussing but also has a human-interest theme and is something that your audience can relate to.  Stories are far more memorable to the human mind as they will often have a tale that can be re-told and shared again.
Alternatively, you could go abstract and share something which encapsulates your audience's attention but is more analogical in its approach.
It can also be helpful to remember that the audience has turned up to see you speak; so rather than letting nerves take over, keep in mind that they see you as the solution to their problem or as the fountain of knowledge they need.
Don't be a robot
Robotic presentations, where you just drone on with the enthusiasm of an ant will do little to enthrall your audience. While you will, of course, want to ensure that your presentation goes smoothly, it's inevitable that there may be an odd hiccup along the way. And it's to be expected; you are only human after all. If something does go wrong then don't panic, go with it and move on.
If you have a set Q&A time in the end, then make this clear at the start of your talk so that the audience is aware that they will have the chance to ask questions at the end. However, if the audience does participate beforehand don't shut them down. Their participation is a sign that they are engaged with your talk and want to contribute.
Start small
If you've been tasked with a big presentation and you feel particularly apprehensive, then starting with smaller presentation or discussion panel opportunities can help to build up your confidence. Providing you with the chance to participate in a similar environment can give you a boost and a taste of what to expect.
If you are taking part in a panel discussion, then it's essential that you remember to engage with your peers. If you have a difference of opinion, then discuss it fairly, and don't be tempted to take over the panel and make it your own show.
Our parting words of wisdom, make each audience member feel as though they are the only one in the room, know what you're talking about, and practice, practice, practice.