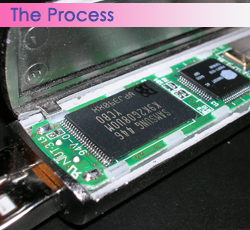 Logo Printed USB Sticks, whilst on the surface may appear as a simple product that can be constructed with little fuss, actually have a rather large journey from beginning to end once an order is placed with ourselves. USB Makers' UK offices liaise with our Chinese factory throughout the process. From the creation of the chip to when they arrive at your door, the process of a USBs' creation is an intriguing one, to say the least, having an insight into their creation could help you get a better idea of what is required for your project to become a success.
Chip Sourcing
The first step is sourcing the chips. USB Flash Memory trades much like a commodity, constantly fluctuating in price, with certain capacitates becoming cheaper or more expensive based on availability. Chips are sourced for your USBs from USB Traders. There are several grades of chips that can be sourced, A Grade, B Grade and C Grade. A Grade is the best quality chips that are available, USB Makers only source this grade of Flash Memory for its products. B Grade and C Grade have a higher chance of failure and a lower life expectancy. There are also some more unsavoury, illegal grades of chips, such as Masked Chips. Masked Chips are smaller capacity chips that are re-programmed to appear as higher capacity chips, once the real capacity is exceeded, the drive will delete or corrupt older content to appear as if it is still loading data onto the drive, when in fact the drive is full. When your order is placed, a representative from our factory in China will purchase the chips required for your products.
Shell Sourcing
Whilst part of our Chinese team is sourcing the flash memory chips, another is sourcing the shells for your USB Project. Shell manufacturers develop and create select generic styles in a select amount of colours which can be obtained with ease, thus the standard colours that are available. If however, you have chosen to opt for a more bespoke product, such as a Pantone-matched shell or custom PVC shell, your shell materials will be constructed especially for your project. USB Makers offers over 50 styles, most of which can be obtained with ease, however, some styles may need more specialist sourcing.
Printing
Once the materials have been obtained, our factory in China can begin to print your USB with your company's brand onto the shell of the USB. USB Makers offers a 1-2 spot print with most of its styles, however up to 4 colours or a full-colour print can be achieved.
Construction & Shipping
Once the printing process has been completed all the parts are gathered together and constructed. If you have chosen to have pre-loaded data or other data services, the data is then loaded onto the drives and any accessories, should you choose to have additional accessories, are attached to the drives and the drives are boxed in any additional packaging you may have requested. Everything is packed and shipped to our office in the UK, your Printed USB Memory Sticks are then sent to you, ready to go.