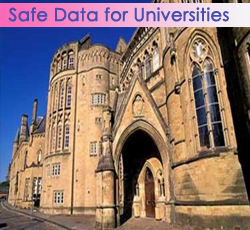 Schoolwork is important, especially when one considers the painstaking hours of investment required to make that perfect piece of work. To lose this work, however, isn't just a case of disheartenment or lost time but potentially whole lost grades as well. It is, therefore imperative that Universities ensure their students are aware of safe data storage devices to back up their invaluable reports or essays, and what better way than providing students with Custom USB Drives, branded with your University's logo.
Helping Students
Learning to back up your work is, unfortunately, a lesson often learned too little too late, however by making students aware of safe data backing up and encouraging the use of USB storage, can prevent unwanted accidents or worse uncontrollable corruption.
Most of our USBs can also be pre-uploaded with up to 500Mb of data free of charge. This data could be useful documents for your students, revision guides, essay writing tips or even course-relevant documents and timetables. Students aren't always the most organized of people, but by supplying your students with Custom USB Flash Drives can encourage safe data storage and accessibility to relevant educational materials wherever and whenever a computer is near.
Useful Encouragements
To encourage safe data storage, it is also a sensible option to invest in more 'handy' accessories or alternatives, USB Wristband Styles make USB storage portable and easy to access. Similarly, our offered accessories including attachable keying chains and lanyards can have the same effect.
For New Applicants
Similarly, a great way to promote your University is by giving potential applicants one of your  USBs. Not only is it a useful tool for students working toward a University career, but it serves as a constant reminder of that student's aims and goals to get to your University. Pre-loaded information could be brochures or promotional videos to raise awareness of your University.
For New Arrivals
Similarly, useful information can be given to new recruits, either those who have just found they were lucky enough to be attending your institution or as a welcome gift to new arriving freshers to either the University as a whole or to their academic department. Not all of this information has to be to do with education. Moving to University can be a big jump for many, information on student support or even video footage from past students sharing their experiences can have a positive impact on the social and working environment of the University.
they are.
Losing data, especially through corruption or damage inflicted by a virus can be catastrophic, and has happened to most of us at some point. However, backing up your data can mean a second chance, an insurance that is often forgotten but sorely missed when one doesn't have it. The solution is to make sure copies of your student's most valuable documents have a place to stay, ready to help if the worst should happen to their work. Similarly, Custom USB Flash Drives can also be a useful tool for getting a large quantity of information to a large number of students. In both cases, your students will now have a useful tool that they can use throughout their university career and beyond.