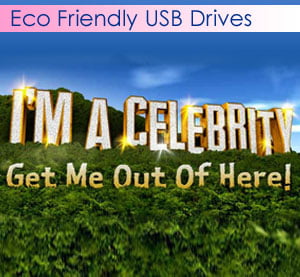 USB Makers UK can manufacture a branded memory sticks to gain your company a jaw-dropping bundle of success! Have you ever thought about branding your own USB Flash Drives to hand out as giveaways at any of your upcoming corporate events or conferences? I thought not! You might be handing out brochures and leaflets at the moment – but stop right there! They are extremely heavy to carry around – believe me. I have been there, done it and got the T-Shirt! A promotional USB will create phenomenal brand awareness to your new customers as well as being a useful device which stores all of your PDFs, brochures, leaflets and you name it! You may have seen a few styles here and a few styles there (not referring to haircuts at all) but have you seen our new Eco-Friendly wooden USB memory sticks?
Again, it is a memory stick that is of wooden material, it is completely eco-friendly, it is manufactured from recyclable wood and it is la natural!
The Eco-Friendly USBs have arrived just in time alongside the courageous and squeamish 'I'm a Celebrity…Get Me Out Of Here!' The celebs have been dumped into the wilderness, surrounded by the natural habitat of the hair tingling Australian animals…eurgh it is mind-blowing at just the thought of it! The Eco-Friendly Series consists of; the Wooden Stick, Wooden Pebble, Oak Barrel (unusual – we know!) and the Cork (ok, now we are getting unbelievable now.) No really!!! We can even create your own promotional USB as a Cork, especially for you wine lovers out there! Pinot Grigio or Chardonnay anyone? We arecapable of anything, well, within reason!
Sssss!!! Got ya! It was my impression of a snake – one is getting in the mood for 'I'm a Celeb!' Oh ok, moving on…Your Eco Friendly custom USB is available in a range of memory sizes starting from a tiny 64Mb up to the finish line of an enormous 16Gb Your branded USB can be engraved on one or both sides of the drive consisting of your own corporate logo or any chosen text that you wish to add to your own design. What about printing I hear you cry out loud?! Oh yes (quoted by the Churchill dog) we can print up to 4 spot colours! Data upload can also be carried out on your USB drive making it easier for your customers to collate and read all of the information that you were ready to hand out to them in the form of sheets and sheets of horrendous paper! Your eco friendly printed USB has a minimum order quantity of just fifty units! By golly you would want more than that – especially once your first batch of drives fly off of your stall! Bish bash bosh and they are gone! What do you do? Call USB Makers UK for a repeat order!